CMC Global – A young brand with high ambitions
After six years of establishment, though being the youngest unit of CMC Group, CMC Global has made outstanding development steps, becoming an internationally recognized company in software export and IT services and realizing the aspiration to bring Vietnam's IT products, solutions, and services to the international market.
In 2016, CMC technology group started its strategy to expand to the international market, with the first foundation being a software supply and export department with 50 employees. March 2017 marked the establishment of CMC Global, with the first office opened in Japan. After six years of development, CMC has achieved outstanding outcomes, with more than 1,350 billion VND in sales and more than 500 partners and customers from international markets, including several organizations and corporations on the Forbes 500 list. The company has over 3,000 employees across ten offices in Vietnam and other countries worldwide.
The mark of rapid development from youth
Sharing about the achievements of CMC Global, Mr. Dang Ngoc Bao - General Director of the company, said that with an average age of 27 - 28 years old, CMC Global has excellent strength in enthusiasm and dare. fighting, daring to commit to delivering exceptional results in terms of revenue, consumers, and market.
"Though being a young unit, we have a team of qualified staff with ten years of experience in technology, particularly software development, so we can catch up quickly when expanding globally. Behind us is CMC Group with a 30-year foundation with a good brand, clear visionary leadership, catching up with trends, and creating good motivation, so CMC Global's entry into the international market is kind of simple. Furthermore, the wave of digital transformation is rising, and the company is on the right track to deliver excellent outcomes," Mr. Dang Ngoc Bao stated.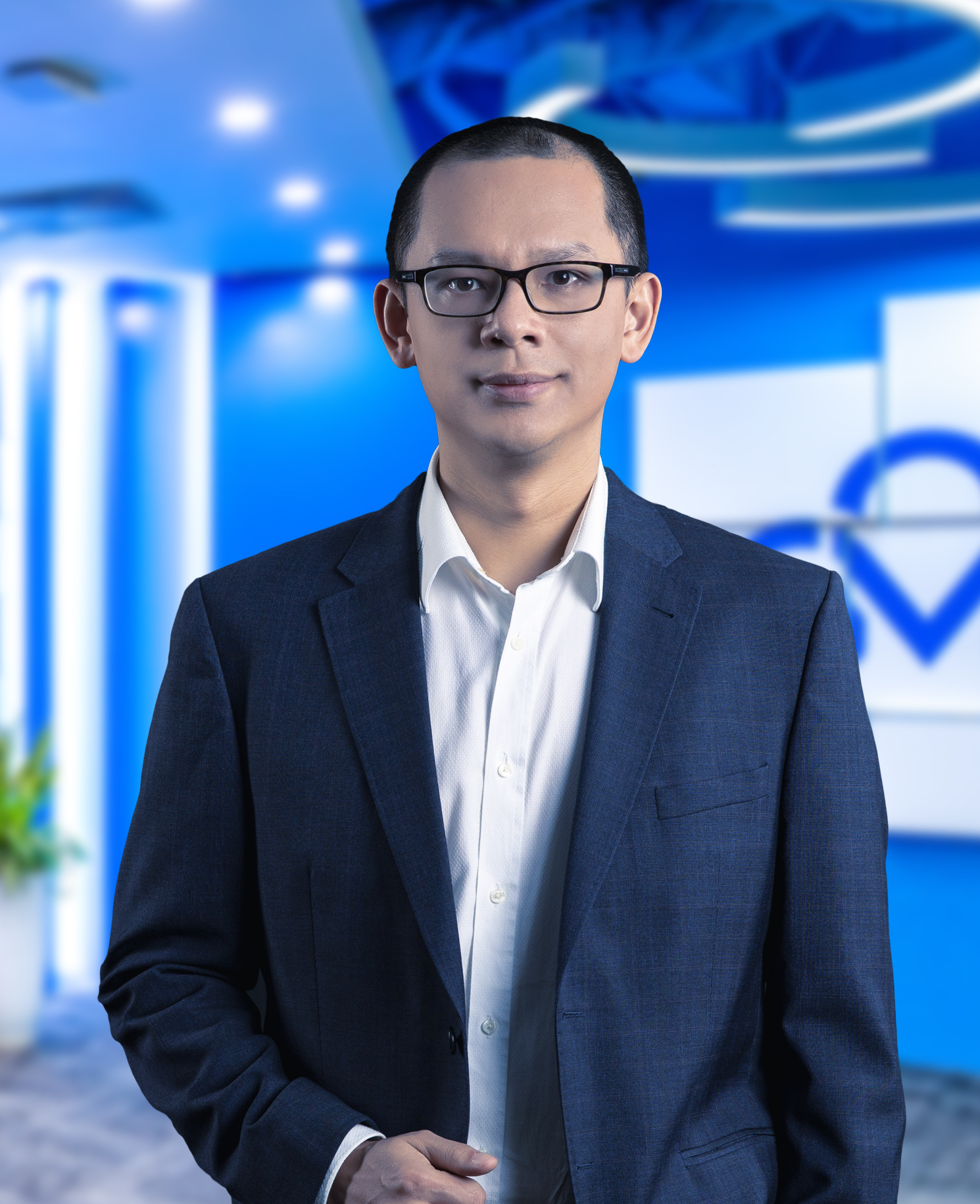 Mr. Dang Ngoc Bao – General Director of CMC Global
In recent years, the need to promote investment in IT and digital transformation has taken place firmly across all fields, from governments, organizations, and businesses. Thanks to that trend, CMC Global has gained more large customer contracts, establishing itself as the leading Vietnamese enterprise in the Australian and Korean markets.
CMC Global has been constantly looking for new markets and expanding partnership plans. From the first office in Yokohama, Japan, in 2017 to now, the company has been present in numerous key markets with outstanding products, such as providing hospital applications throughout Korea, working closely with one of the leading technology corporations to apply new technologies such as AI, Big Data, IoT... to meet the needs of clients. The company partners with a significant local enterprise in China to deliver eKYC (Electronic Customer Understanding) solutions for banks and Embedded Testing solutions for in-car driver applications for car brands. The company also accompanies major customers in the Fintech segment to develop the financial systems of the future.
International markets of CMC Global
"Our direction is to start with small projects, understand the customers' problems, and solve them well, so we can open up opportunities to have big contracts," Mr. Dang Ngoc Bao stated. At the same time, he said, "The company's staff is young and enthusiastic, and we always want to build the company step by step firmly, without rush, without shortening the period to get a solid foundation." CMC Global actively seeks out new business development prospects as part of the organization's strategy, in addition to Japan, Korea, and Asia Pacific as three key markets. prioritizing investment in digital technologies and digital transformation.
According to Mr. Nguyen Trung Chinh, CMC Executive Chairman, Go Global has been CMC's strategic orientation for many years. To reach the strategic goal of becoming a global company by 2025, CMC must grow its governance capacity, operational capacity, and working culture worldwide. Foreigners should be included in the workforce. Products and services must also be supplied at a global level. Then CMC will be able to become a global corporation.
World-class service, leading the new wave of technology
With the goal of becoming the region's leading digital transformation service provider, CMC Global strives to lead the new wave of technology with digital transformation services. Typical services include IT Outsourcing with over 500 well-known customers worldwide; digital transformation services such as cloud computing technology, in which the company focuses on protecting customer information and systems with the best tools and techniques to ensure data security and integrity. CMC Global currently has nearly 200 AWS-certified Cloud solution engineers.
CMC Global also has other services, such as business process automation (RPA) and data analytics; personal identification, face recognition; Social Listening,… that meet the needs of customers in target markets and new markets of the company.
A meeting at CMC Global
CMC Chairman Nguyen Trung Chinh stated that, in addition to the indicators of scale, revenue, or personnel, going global requires CMC Global to be mentioned through the products and services provided, the real value brought to customers, and their journey to success.
CMC's journey has just begun after six years of going international, compared to other big names in the Vietnamese IT market, such as Viettel, FPT, or VNPT. However, CMC Global's flexible method of looking for opportunities and developing the market yielded impressive results, with total revenue of 1350 billion and many prestigious awards at domestic and international levels.
"Besides the traditional Japanese market, CMC Global is Korea's No. 1 Vietnam Outsourcing company." Aside from cultural similarities with our target markets, our strength is having a large staff supporting us to become a successful digital transformation brand. Based on that vision, CMC Global is highly optimistic about becoming the region's top digital transformation firm within the next five years."
CMC Global has developed three International Software Development Centers - Global Delivery Centers (GDC) in Hanoi, Ho Chi Minh City, and Da Nang to suit international projects' security and scale requirements. CMC Global has developed three International Software Development Centers - Global Delivery Centers (GDC) in Hanoi, Ho Chi Minh City, and Da Nang to meet international projects' security and scale requirements. GDCs and information security certificates issued per ISO 9001/2015, ISO 27001/2013, and CMMi level 3 standards ensure staff quality and information security necessary to achieve worldwide quality standards for technical projects. CMC, in particular, is the first local partner in Vietnam to gain Analytics accreditation as of March 2023. CMC possesses six Microsoft advanced certification capabilities, making it first among Vietnamese partners.
"We go international with a real fighting spirit. Thousands of new employees join CMC Global annually, bringing their differences and traditions from different regions. We do not tell consumers fancy things, but instead face up to, discover solutions to fix them, and then accompany them throughout their future trip,' Mr. Dang Ngoc Bao added.
As a TOP 2 IT outsourcing service provider in Vietnam, CMC Global is proving its position with outstanding technology products, services, and solutions to help domestic and foreign customers transform digitally. Within the 30th anniversary of the establishment of CMC Group, CMC Global was pleased to receive a certificate of recognition from the Minister of Information and Communications for excellent achievements contributing to the building and growth of the sector.
Mr. Dang Ngoc Bao, General Director of CMC Global (1st person on the left), was honored to receive the Certificate of Recognition from the Minister of Information and Communications
At celebrating and honoring CMC Corporation's 30th anniversary - The Digital Heritage Tribute Awards and 30th Anniversary on May 19, 2023, CMC Global triumphed over other candidates to win the "The Leading Company of the Year." This is the third year CMC Global has been recognized for its efforts and dedication to the group's development. This "hattrick" award is a significant milestone in appreciation of the CMC Global team's nonstop efforts to provide the best services to clients.
CMC Global team is honored to receive the "The Leading Company Award of the Year" award
CMC Chairman, Mr. Nguyen Trung Chinh, highlighted his delight in CMC Global's accomplishments: "CMC has experienced so many memories for 30 years, CMC has achieved very proud achievements. We are proud to have the international business group CMC Global, which has remarkably grown 100 times in the last five years with 3000 engineers, making it the TOP 2 ITO companies, providing digital transformation services for customers in the world's TOP 500 and being present in 20 countries worldwide, making Vietnam the Digital HUB of not only APAC but also the world."