CMC Telecom wins 2 international awards for outstanding digital infrastructure unit
Recently, CMC Telecom has won two major international awards for digital infrastructure unit as voted by International Business Magazine (IBM).
Data Center Cyber Security Award Vietnam 2022
Through rigorous evaluation rounds, IBM has honored Tan Thuan Data Center (DC) of CMC Telecom with the Data Center Cyber Security Award Vietnam 2022 award based on two factors: infrastructure and human.
In terms of infrastructure, Tan Thuan DC is the top data center in Vietnam and APAC region. Strongly invested in by CMC Corporation and put into operation in May 2022, this data center is designed by B-Barcelona Singapore to comply with the strictest security standards for a modern DC, such as PCI DSS, TVRA (Threat Vulnerability & Risk Assessments), ISO 27001:2013 / ISO 9001:2015, etc. Especially, Tan Thuan DC is the first and only DC in Vietnam to have the Uptime Tier III certification for both Design and Construction.
As a leading and modern data center, Tan Thuan DC offers the best connectivity and services to businesses, with a network of 1,200 high-capacity racks of 20kw/rack in an area of 10,000 m2.
Besides secure infrastructure, the team of highly qualified security experts of the Digital Infrastructure Department also plays a crucial role. As the strategic member of CMC Corporation in the Information Security field with nearly 15 years of experience in the market, services provided by CMC Cyber Security all meet international security standards. CMC Cyber Security is also a member of the Anti-Virus Asia Researchers Association (AVAR) and is ranked among Microsoft anti-virus software manufacturers (Microsoft Virus Initiative -MVI) in the world.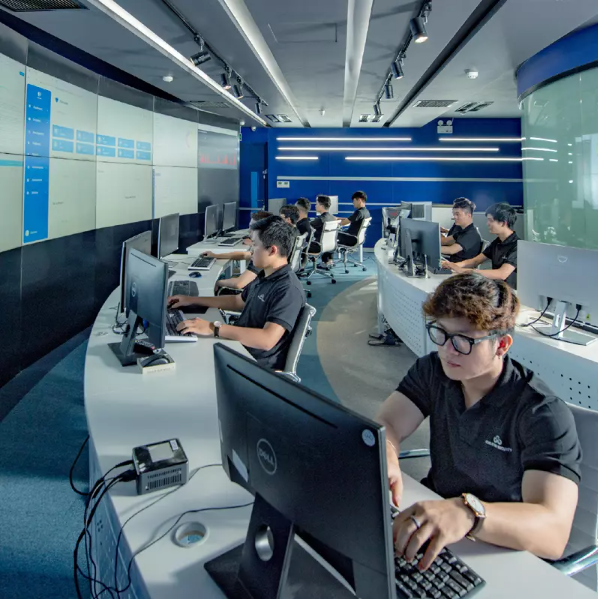 In addition, CMC Cyber Security's CMC Malware Detection and Defense solution (CMDD) managed to pass the test for Virus Bulletin 100 (VB100) certification with result of 100% for all inspection indicators.
Cloud Service Provider of the Year 2022
Along with the Data Center Cyber Security Award Vietnam 2022, CMC Telecom is also the only company to receive the prestigious Cloud Service Provider of the Year Vietnam 2022 award thanks to its capability for direct connection and simultaneous management of the world's top 3 cloud computing services, namely Google Cloud, Microsoft Azure and Amazon Web Service.
Also, CMC Cloud is the core cloud platform in CMC Telecom's Digital Infrastructure strategy to turn Vietnam into a Digital Hub of the region.