CMC University works in collaboration with Synopsys on promoting research and training
CMC University, a member of Education & Research Department of CMC Corporation, has just received representatives of Synopsys and had a work session with them. The meeting aimed to promote cooperation opportunities between the two companies for the training of high-quality human resources for IC design in Vietnam. The signing ceremony was attended by Dr. Robert Li - Taiwan (China) and South East Asia Vice President; Mr. Andrian Ng Siong Teck - Sales Director, South Asia & India; and Mr. Trinh Lam - Sales M
Representing CMC University at the ceremony were Assoc. Prof. Nguyen Ngoc Binh - President, and Mr. Ho Nhu Hai - Vice President.
Representing CMC Applied Technology Institute (CMC ATI) were Dr. Dang Minh Tuan - Director; Dr. Nguyen Xuan Ha - Head of IoT and Smart Device Research Department, and Dr. Nguyen Duy Viet - Head of Investment Department of CMC Corporation.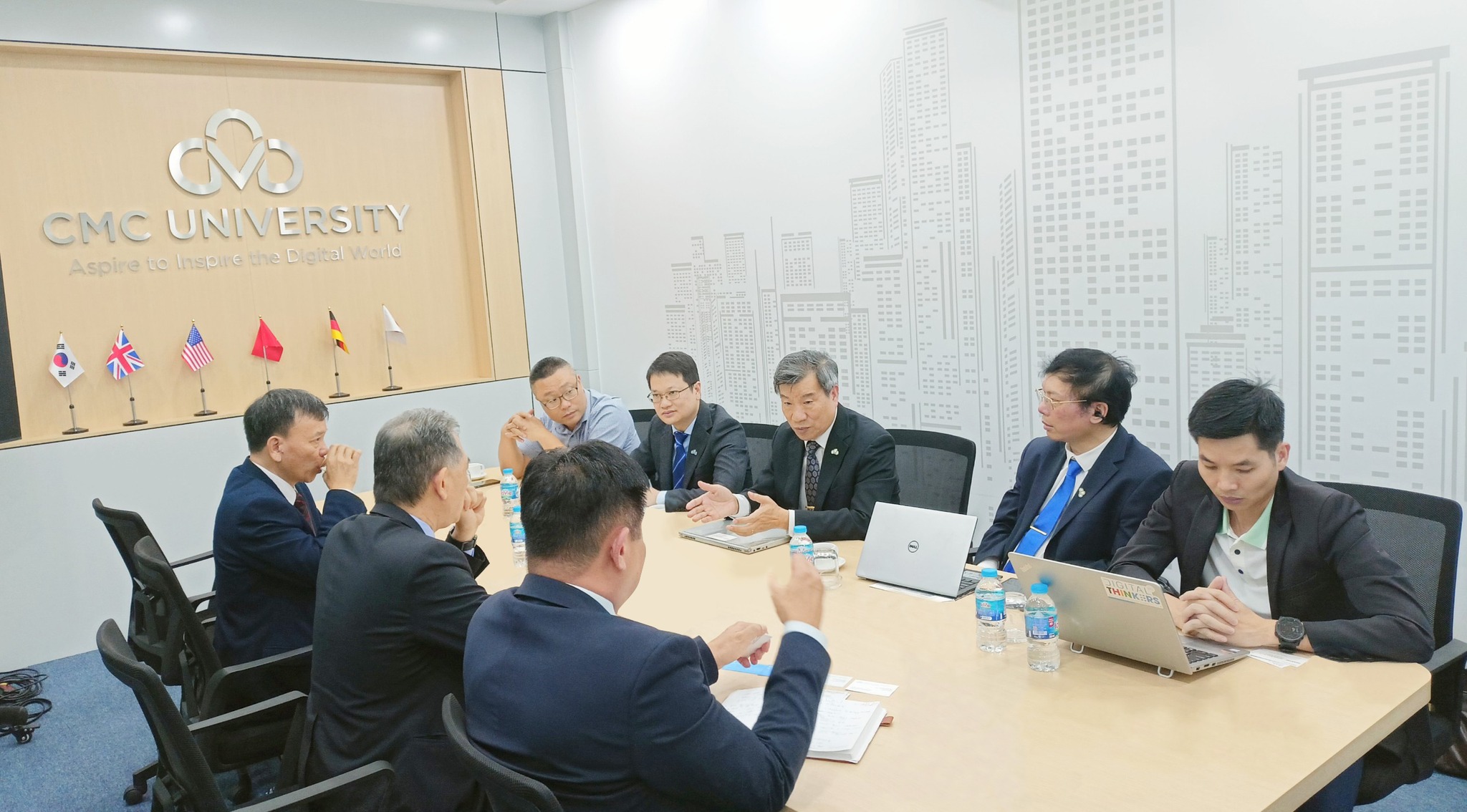 Overview of the work session
At the work session, Dr. Nguyen Duy Viet - Head of Investment Department of CMC Corporation said that CMC is planning for a development in IC design and manufacturing in the near future. Therefore, CMC University is tasked with training human resources for CMC Corporation in particular and semiconductor industry in Vietnam in general.
Assoc. Prof. Nguyen Ngoc Binh - President of CMC University affirmed that the institution had made a lot of investment in establishing its IC Design faculty in the coming year.
"To achieve that goal, we must go step by step: constructing curriculum, lectures and laboratories; investing in training for lecturers through short-term and long-term training courses with certificates issued after completing them; and holding competitions to improve their capacity", said the President.
Mr. Ho Nhu Hai - Vice President of CMC University said that the educational institution and Synopsys will cooperate in holding reskilling and upskilling courses with duration of 2 to 6 months in order to provide human resources that meet international standards for the IC design industry.
"Seniors and fresh graduates from electrical-electronic engineering, computer engineering, electronics - telecommunications, applied physics, information technology, computer science, etc. have the opportunity to learn IC design using Synopsys' global standard tools and processses, which shall prepare them to work at IC design enterprises at home and abroad - these companies are thirsting for quality personnel in the field and thus willing to pay higher to attract talents", Mr. Hai affirmed.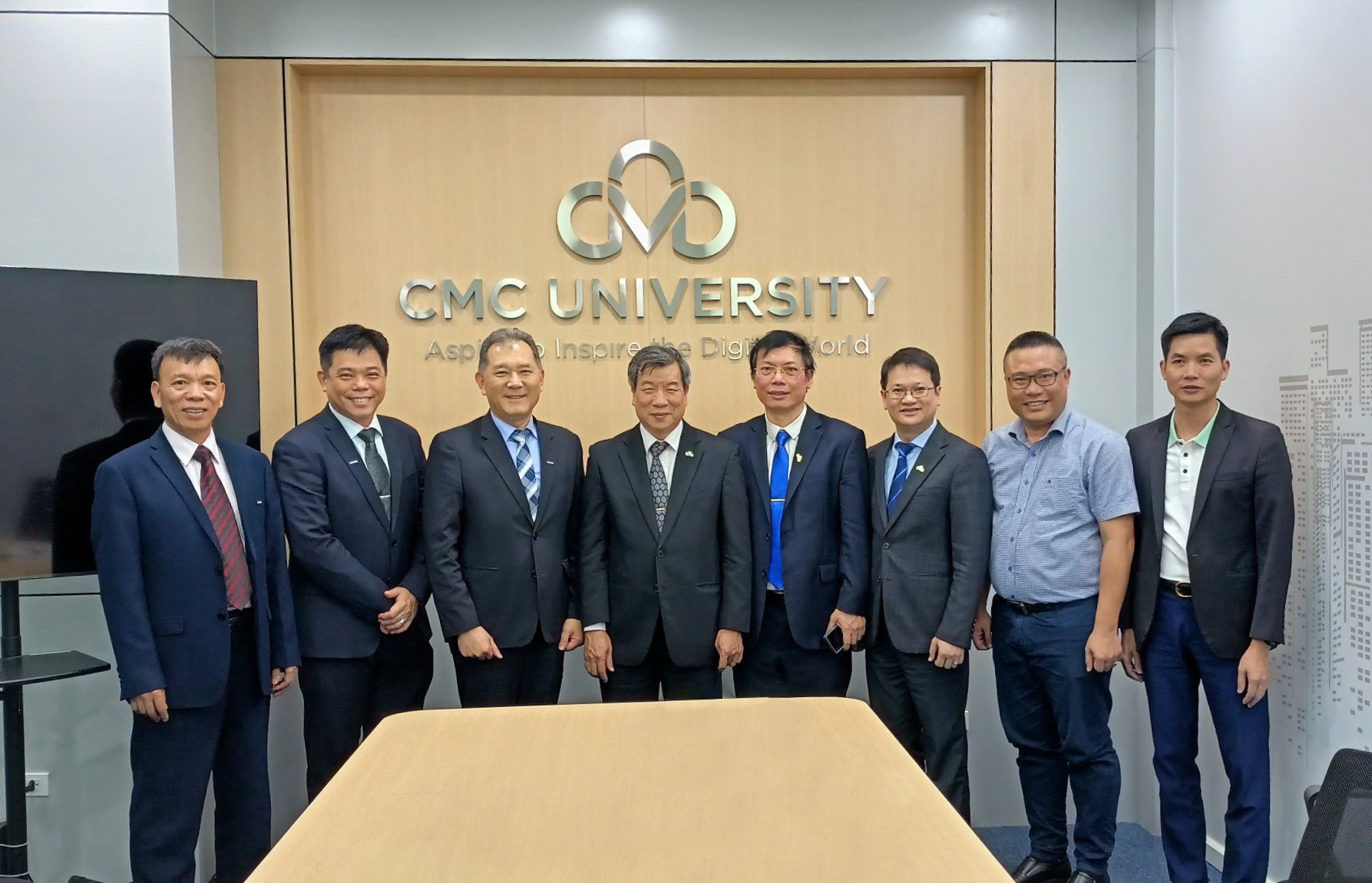 The meeting opens up opportunities for cooperation between CMC University, CMC Corporation and Synopsys in the future.
Mr. Robert Li - Vice President of Synopsys, Sales Director at Synopsys Taiwan (China) said that CMC University is on the right track in developing a microchip design training plan. However, one of the major challenges for students of this major in Vietnam is that in addition to gaining knowledge, they also need to work in laboratories to acquire skills and practice photolithography, thus to meet requirements of the labor market.
Mr. Li also said that in Taiwan (China), students are involved in the process of making chips at laboratories, including a national one that connects chip factories with professors and students majoring in IC design. Vietnam can work with Taiwan Startup Institute, other universities and professors to be a part of this process.
Earlier on 15 October, at the opening ceremony of academic year 2023-2024, CMC University and Synopsys also signed a cooperation agreement related to the training program. Accordingly, Synopsys will provide global-standard training program and train instructors based on its industry-accepted design tools and processes.
In addition, Synopsys will also act as a bridge between CMC University and major research institutes, universities and enterprises in IC design around the world.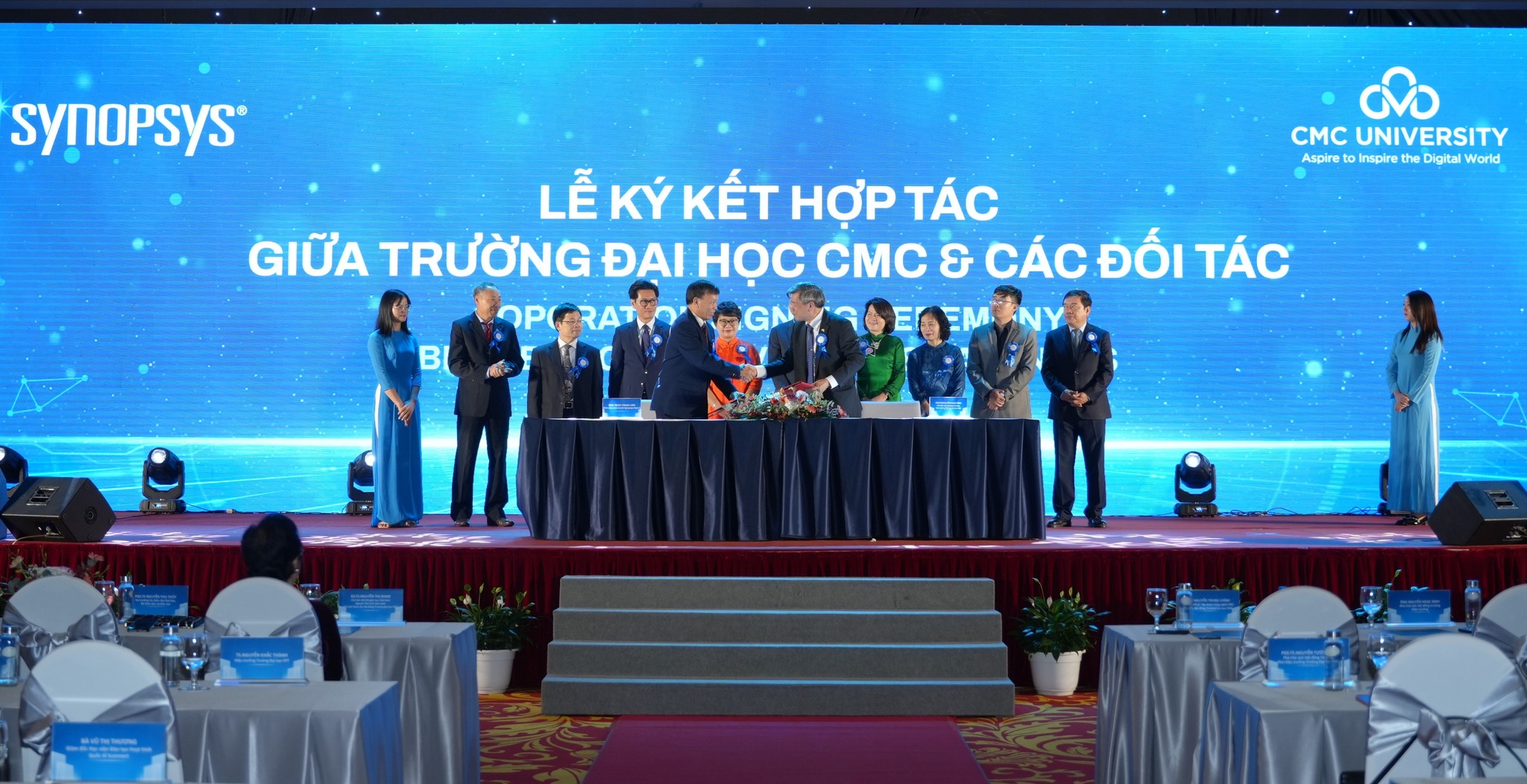 Cooperation agreement signing ceremony between CMC University and Synopsys.
Founded in 1986, Synopsys is one of the few US companies to dominate the global market for electronic design automation (EDA) software, or chip design software; providing tools and services for semiconductor design and manufacturing industry.
In 2022, Synopsys had 19,000 employees and $5.08 billion in revenue. Vietnam is one of Synopsys' strategic investment destinations in Asia Pacific.
Synopsys Vietnam now has four offices in Ho Chi Minh City and Da Nang, attracting nearly 500 qualified engineers.