Government and enterprises accompany each other to overcome difficulties
On the last weekend, the Government Portal held a talkshow with the topic of "Government and enterprises: Accompanying each other to overcome difficulties."
Participating in the talkshow are Mr. Pham Tan Cong - President of Vietnam Chamber of Commerce and Industry (VCCI), Mr. Tran Dinh Thien - Economist, Ms. Nguyen Duc Thach Diem - Permanent Vice Chairperson of BOD and CEO of Saigon Thuong Tin Bank (Sacombank) and Mr. Ho Thanh Tung - CEO of CMC Corporation.
The 90-minute talkshow is where managers, experts and enterprises analyze and talk about contributions of businesses to the economy; the support and companionship of the Government and related authorities; difficulties and problems that enterprises need handle and considered; specific recommendations and proposals of businesses, etc.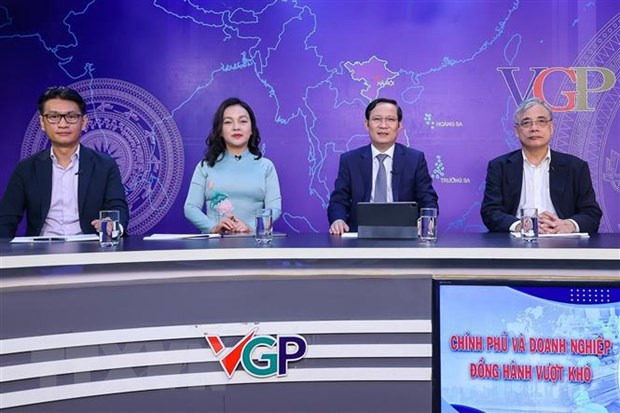 Guests attending the talkshow (from left to right): Mr. Ho Thanh Tung - CEO of CMC Corporation; Ms. Nguyen Duc Thach Diem - Vice Chairperson/CEO of Sacombank; Mr. Pham Tan Cong - President of VCCI; Mr. Tran Dinh Thien - Economist
Closely accompanying each other, shoulder to shoulder
Talking about how the Government and agencies accompany the business community, Mr. Pham Tan Cong said that it is a close-knitted and shoulder-to-shoulder accompaniment, especially in the COVID-19 pandemic.
Mr. Pham Tan Cong - President of VCCI
"When the pandemic broke out in Vietnam, everyday VCCI received hundreds of feedback and recommendations of businesses and embassies of home countries of FDI enterprises in Vietnam. Based on VCCI's proposal, the Prime Minister directed to convene a meeting with enterprises across the country and assigned VCCI, Ministry of Planning and Investment and the Government Office to be in charge of holding it. That was a large, nationwide conference with the participation of Secretary of the Provincial Party Committee and Chairperson of People's Committee of all 63 provinces and cities, and was considered a "spectacular relief" for businesses in the COVID-19 pandemic at that time.
The government has proved its fierceness, timeliness and creativity, and especially has listened to businesses to make 3 huge decisions. First is to shift the pandemic prevention and control strategy from Zero-COVID to safe and flexible adaptation to the pandemic. Second is to arrange for vaccinations across the country in a truly timely manner. Third is to have solutions in place to support businesses to recover and develop after COVID-19.
These are major policies for enterprises to preserve resources and maintain production. We did suffer from a short period of disruption, but compared to the world, Vietnam has done very well all in all. Therefore, our recovery is very fast, which creates conditions for businesses to strongly bounce back and find their way to higher positions in the global production and supply chain.
On the side of enterprises, we must also note that although facing many difficulties, but with high national spirit and especially the identity of Vietnamese entrepreneurs, i.e. being creative and dynamic, enterprises have accompanied and shared with the Government, contributed material and human resources to pandemic prevention and control and vaccination fund, ensured "3 on-site", and maintained production and business activities as well as employment for workers and social stability. I think that such accompaniment is a great example of how we stand shoulder to shoulder" - said Mr. Pham Tan Cong.
Difficulties of enterprises in terms of capital
With the current picture of world economy, which is being affected by political changes and especially fluctuations in terms of currencies and interest rates, (for example, interest rates have been increased by FED and will further be raised), leaders of CMC Corporation have had discussions to assess world economic situation and its impacts on Vietnam's economy.
Mr. Ho Thanh Tung said: "CMC Corporation works with many foreign partners, mostly technology firms from the US, Japan and South Korea. All recent changes in economic and financial policies have had quite huge impacts on our corporation and will continue to affect us. As a technology corporation,
when dealing with foreign partners, exchange rate fluctuations influence our transactions a lot. I think that not only us, but also all Vietnamese enterprises who have never had to be cautious about exchange rates before, will certainly and directly be affected by such changes. And in the short term, if the exchange rate and interest rate grow higher and higher, business results will be hit directly.
In the long term, it will be a challenge for businesses to make investment decisions, as indicators relating to interest rates and exchange rates will be included in the equation. If the rates are high, making the call will be much more difficult."
Mr. Ho Thanh Tung – CEO of CMC Corporation
Having the same opinion with Mr. Tung, Ms. Nguyen Duc Thach Diem said: "I think that banks must have
solutions, and whatever they are, they definitely need supports from the State Bank and the Government.
In my opinion, for the banking industry, the first bottleneck to overcome is the capital and legal procedures for real estate businesses. There are a lot of restrictions in this field, but if the funding for it is not sufficient, it will be hard for our economy to develop.
The second bottleneck is the legal corridor for digital transformation. For financial institutions, in terms of technology applications, we desperately need legal corridors for stability in the process of system development.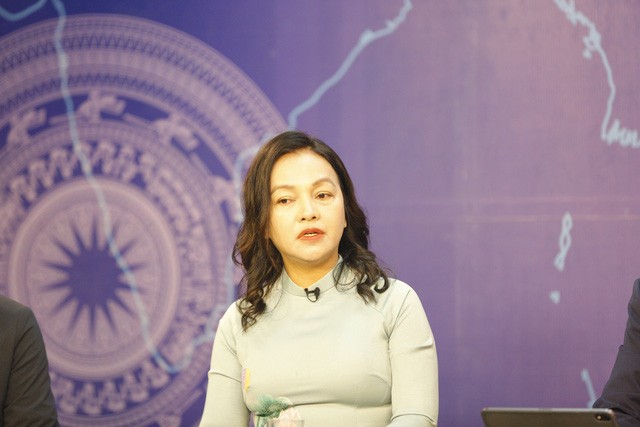 Ms. Nguyen Duc Thach Diem - Permanent Vice Chairperson of BOD/CEO of Sacombank
Difficulties of enterprises in keeping the supply chain intact
It has to be said that during the last two years, businesses have encountered a lot of difficulties. Sacombank is an enterprise operating in a specific field, where two main challenges have been noticed.
"First, the supply chain is disrupted, and the costs for business support services are very high. In the COVID-19 pandemic, labor resources were greatly affected. Then, inflation and economic recession caused businesses to lack money, while the liquidity, supply and demand of the economy were greatly affected and some legal barriers, not to mention some
legal barriers that are difficult to overcome. Under the impacts of COVID-19, people are shifting to online shopping and transactions. In such a context, doing business is not easy.
For the banking sector, we have to both fight the pandemic and run our business in addition to accompanying the economy. We must maintain business interest rates along with exemption and reduction of fees and rates under the State Bank's direction, while ensuring stable liquidity throughout the pandemic" - said Ms. Nguyen Duc Thach Diem.
Representing enterprises, Mr. Ho Thanh Tung said: "CMC Corporation encountered an emergency situation in the pandemic. The social distancing in HCMC was a truly difficult experience for CMC as well as many other businesses. What we were worried about the most at that time was the safety of our staff. There were many heart-breaking cases back then. The corporation had had strategies and plans to support officers and employees in pandemic areas in that most challenging time, i.e. programs to support and prepare for a larger-scale outbreak, as well as plans of what the corporation can do to cope with it.
We were fortunate to have made decisions and preparation in advance for different situations. The corporation had 4 levels of plan, and in case of complete lock-down, there are options to maintain production. All of these programs were planned ahead of time and followed a process so that whatever plan of option is selected, our activities are not disrupted.
A thing is, we are responsible not only to our own production and business, but also to the national information technology system. We must ensure that all businesses and banks being our customers operate smoothly. In a time when everyone works from home, one third of CMC officers still have to be present at data centers to ensure telecommunication and information technology systems work well. For any requests related to malfunctions of IT system from ministries, the Government or banks, we must be sure to send staff to handle the situation and ensure safety and security of the system. Also during that time, the CPV, the State and the Government required all technology firms in Vietnam to be ready to support the entire information system that serves the pandemic prevention and control. We even had to use old computers for that work, because at that time the global supply chain was disrupted, and it was extremely difficult to obtain new information system, new computers and new routers. Those are what we want to share with you".
Warrior ideology of CMC
Talking about the capital needs of businesses, Mr. Ho Thanh Tung said: "I think most enterprises are in need of capital, for which we need a legal framework to support the cash flow. CMC Corporation itself is a large-sized enterprise with good management system, assets and business plan. We don't really have much trouble working with banks to get the capital. Currently, our development projects and plans are well preapared and managed. On the bank's side, technology corporations and large companies like CMC are seen as potential customers who are taken care of by the bank.
But for businesses being our customers, we see a different problem. Their capacity for governance, digital transformation, information and plan presentation are much poorer, so they have difficultiy accessing funding from banks. During COVID-19 pandemic, most of our corporate customers were in a state of production shutdown. One of the changes is that they have focused on corporate governance, business construction and digital transformation. Several software applications have been deployed. That explains why they catch up and grow so fast after the pandemic. They spent the seemingly lost time to focus on developing production, building internal governance and business powers. That's the gain from the pandemic that we don't often talk about, and also the stepping stone for us to bounce back really strong after Zero-Covid.
When businesses have built their internal strengths, systems and programs, the question goes back to where to get the capital for growth. I think we also need supports from the Government as well as programs to promote the flow of capital. Not only in terms of getting funding, when we apply for any type of license, administrative processes and procedures always cause headache the most. That is when we need
to have solutions and a warrior spirit to brave COVID-19, to sit together and figure out how to solve problems and reach to our goals. At the end of the day, it is still the outcome that matters the most.
"Sudden braking" is most afraid of
Discussing the recent capital and credit markets, economist Tran Dinh Thien said that after the few years of the pandemic, the market is in dire lack of capital and businesses are "very thirsty" for this resource. It's important to inject capital into the economy. But how to do it to keep the economy safe while ensuring economic growth? That's what we have to pay close attention to. In the context of a flourishing bond market, or hot growth, we are having a lot of expectations for the recovery and development program, but its speed of injecting capital is too slow, leading to an outburst in the private capital market to quench the thirst. Recently, the Government has directed to deal with major incidents, which causes this market to slow down, meaning its "blood" supply is also stopped. But this is something that must be done to create new motivation and restore momentum of the whole economy. Or we'll lose our chance.
Recently, the Government issued Decree No. 65/2022/NĐ-CP on corporate bonds as an effort in such a spirit, but to have achievement is not easy. If we want this occasion to be an opportunity for Vietnamese enterprises to recover and rise strongly, it is necessary to pay special attention to the development structure and support the development of financial market, which in turn will help with supporting enterprises. An unusual situation calls for unusual solution. Sticking to the usual way will not solve the problem.
Agree with the above view, Mr. Pham Tan Cong further said that the botteneck and the hotspot now, which is also the most serious headache for the Government in running the economy is to solve the problem of capital. It is a question of "to be or not to be" of businesses. They are most afraid of "sudden braking", i.e. unforeseenable policies. During the COVID-19 time, we were succesful in dealing with a difficult problem, but this new one is not a piece of cake. He thus expected the Government to have a special policy for this. With the very strong way of leading that the Prime Minister has proved, we will overcome this challenge.
An independent and autonomous economy means a strong business force with highly ethical background and corporate culture.
Mr. Pham Tan Cong clearly pointed out that building an independent and autonomous economy requires efforts not only from the Party, the State and the Government, but also from entrepreneurs and enterprises. Each and every one of them must have a vision and must define their missions in accordance with the vision and missions of the country. That way, it can create the accompaniment and a team of talented and virtuous Vietnamese entrepreneurs who are on an equal footing with world business communities in terms of both scale and capacity. We have to have both large-sized enterprises to lead as well as small and tiny-sized ones for a complete economy. If not, we will not have autonomy, and there will be gaps from which dependence is born.
Sharing the view on this, Mr. Ho Thanh Tung, CEO of CMC affirmed: "We are always imbued with self-control, in times of both ups and downs, with responses in place to face difficulties in the journey to find the "bright path". We have to keep in mind that we build to develop and survive in 50, even 100 years. If you only plan to stay for 10 or 20 years, you will go to nowhere.
Regarding globalization, Vietnamese enterprises need to assert two things: First, we must be successful in the domestic market and establish our position in the international market, as direct competition is seen in both.
CMC clearly defines the vision for success of the Board of Management as well as all officers and employees. The first thing to do is to always affirm the commitment towards customers and bring values to them. We want to and must offer many values to compete first in Vietnamese market, and then in the international market.
CMC has been involved in the entire technology chain. Currently, the corporation has 10 member companies operating in 4 main areas: Digital Infrastructure, International Business, Technology and Solutions, and Research & Education, focusing on technology and information technology software development as well as information technology service solutions for domestic and international customers. Most recently, we entered the field of education and training through CMC University.
All of this must be consistent in terms of business and professional ethics, as well as our credibility and commitment to all areas. For CMC, each company has a certain difficulty in asserting its position as well as competing in niche markets. However, the business ideology must be consistent within the corporation. That's how we're building and organizing."
At the end of the conference, all guests agreed that on the basis of inheritance, stability, renovation and development, under the lead of the Party, the accompaniment of the National Assemly, the participation of the whole political system as well as people and enterprises, the support from international friends, the drastic, timely, proactive, creative and synchronous direction of the Government and the Prime Minister in the spirit of creating all favorable conditions for enterprise development through specific and synchronous solutions both in the immediate and long terms, it is fully believed and expected that new motivations for business activities will be created, the business community will take full advantages of potentials and opportunities to overcome difficulties and challenges, proactively adapt and respond to all circumstances, increasingly, strongly and sustainably grow to make practical contributions to the socioeconomic construction and development of the country.