President of CMC Corporation: "Investing in Education is the best way for us to give back to the country"
On the journey to become a global, billion-dollar corporation, CMC has made an ambitious step: Becoming the strategic investor of Asia University of Art and Design with an investment of over 1,000 billion VND.
Behind this decision is the long-term vision and the profound education philosophy of Mr. Nguyen Trung Chinh - Chairman of BOD, Executive President of CMC Corporation.
- Happy New Year to you, President! However, I would like to start our interview with some old story. With the ambition of turning CMC into a global digital company and a reliable partner for the digital transformation of domestic and foreign businesses, to date, what achievements have you and your colleagues earned, and do they exceed your expectations?
- Yes! The strategy of CMC in the next 5 years is to become a digital corporation who provides digital transformation services to domestic and foreign businesses, especially those in the region, and at the same time become a global corporation. But no matter how good the strategic forecast is, life is still full of surprises! 2021, the first year in that 5-year roadmap, is also the year in which we have to face a lot of difficulties due to the pandemic. However, this is also an opportunity for us to prove our ability and make a transformation. We built two scenarios: one is prudence, the other is development, also known as "baseline" and "big move", respectively. Just so you know, in 2021, CMC has completed 100% of its planned goals, and is even more successful than we expected.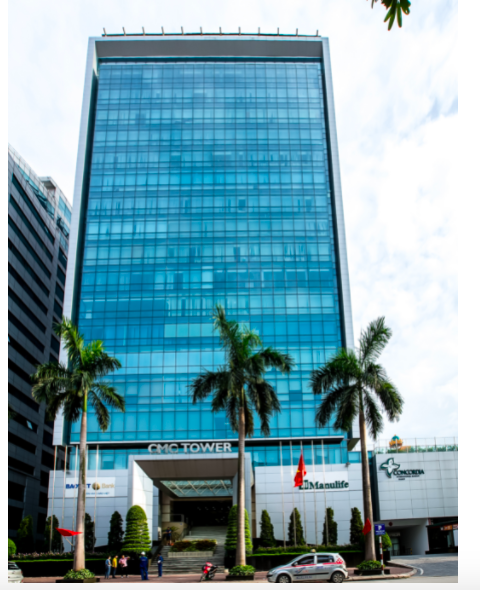 - What an impressive accomplishment in the year of Covid-19! However, in the journey to raise the corporation's revenue to 1 billion USD, why did you decide to invest in higher education instead of staying in the fields that you have strengths?
- CMC is a business, and I am a businessman, so economic benefits and vision of the organization come first. In order to become a global company with billion-dollar revenue in 2025, our number of employees must be 10,000 to 15,000. Currently, CMC has only 4,200 employees, so in the next five years, we have to triple this number. In order to attract high-quality workers, a strategy for human resource development is very much needed. This is the first reason why we decided to invest in education: to meet our own demand.
More importantly, after nearly 30 years of establishment and development, CMC wants to contribute more to the society, to "give back" what the country has given us so that we can become what we are today. And I think that, with the current situation and demand in Vietnam, education is the best place for CMC to realize that wish.
- Please allow me to interrupt. It is believed that for a company to be considered to have fulfilled their social responsibility, making donations is enough. Do you share the same thought?
- Making donations is like giving a person the fish, not the fishing rod. I think that, we need to do what's best to the country, and investing in education is just that thing. Through that, we can create long-term products for the society - new people with adequate capacities and qualities - to realize the vision of turning Vietnam into a powerful country by 2045, which is also the goal set by leaders of the state to celebrate the 100th anniversary of our country's establishment. CMC desires to join with other ICT companies in turning Vietnam into a global provider of digital services and a digital hub of the region. At least, in addition to technology and business, we can also make contribution to human resources.
- As you said, education and training is truly important. However, this field is also the root of... many disappointments. So, what drives you to think of giving back to the country by investing in education and training? What is you view on the role of this sector?
- As you know, I used to be a state scientific research officer before switching to doing business. I am always aware of the fact that, for the country to develop and the business to sustainably grow, good and new people are always needed. Education and training is meant to create people like that. In particular, from the perspective of demand, "good people" emphasizes on their qualities and morality, while "new people" refers to their qualifications and skills that help them keep up with the development of the era. Therefore, no matter where or when, education is always seen at the top of national policies. As you can see, countries which used to be at the same level as Vietnam have later had breakthroughs and become fully industrialized. All developed countries give priority to developing education and human resources.
- Working in education sector is not an easy task, so what is the connection between education and a company with lots of experience in technology and service? - Also, is "the fourth industrial revolution" or "digital transformation" just a fuss in Vietnam?
In my opinion, digital transformation will help the state budget as well as each citizen, each enterprise and the whole economy save a huge amount of money. However, digital transformation is also followed by problems about improving infrastructure, ensuring information security and especially meeting the need for human resources that both the Government and the society need to solve. And in order to have new and good human resources as I said before, the role of enterprises is indispensable. Enterprises are both the customers who use products of education and who set the goal and orientation for education. They are also the companions of education to help learners more firmly grasp and clearly understand knowledge as well as have better work skills. This is the connection between education and technology enterprises that CMC has been pursuing over the years.
- If you put it like that, it means enterprises need to engage in education to have good human resources. So why did CMC choose to invest in Asia University of Art and Design instead of a primary school, a high school or an escalator school?
- The investment in higher education is just our first step. CMC has decided to invest in education sector in general, including all levels of education, from early childhood to tertiary and post-tertiary. I think that, once we have engaged ourselves in education, we should take part in all levels of it. However, CMC chose higher education as its first step, because this segment is most needed for the operation of the corporation in the coming time.
- With such a colossal investment, what are your expectations for AUAD? What goals did you set?
- First, the education philosophy of AUAD is based on how the world and especially UNESCO define education: learning to know, learning to do, learning to be and learning to live together. In addition, we also aim at "a prosperous Vietnam", or, in the words of the first Minister of Education and Training of our country, Mr. Vu Dinh Hoe: "Education for people" - for the development of people themselves. Regarding our mission, the corporate wants to train high-quality human resources in science and technology for the innovation of the country, as well as to bring a life-long learning environment to people. This is also the goal of CMC in building our work environment. We highly appreciate the creativity and the desire for life-long learning of all officers and employees. Regarding vision, we hope that by 2033 (the 40th anniversary of CMC), AUAD will be ranked in the top 100 best universities in Asia, and then in the top 200 best universities in the world by 2043 (the 50th anniversary of CMC).
President of CMC Corporation: "Investing in Education is the best way for us to give back to the country" - Photo 7.
- Many private higher education projects failed despite their good intentions and the reputation of those in charge. So what is the biggest challenge when you enter into this field?
It must be people and the thought of providing education. My colleagues and I clearly understand that building a good university is not a piece of cake. Education needs methodical and serious investment, as well as good and suitable people. In the imminent future and in long term, those who work in education sector at CMC must always innovate their thinking, be creative, and have a spirit for liberal education as well as critical thinking skills. Our top priority is to change the traditional habits and methods in teaching and learning into new ones that fit in with the conditions of a rapidly developing society - the digital society of Industry 4.0.
- What are that factors that give you the confidence that AUAD will be successful and become the dream university of many later generations of learners?
- First is our experience and the recognition that the society has given to us. Before participating in the education sector, CMC is the provider of technology solutions for education, such as intelligent university management (IU), digital library, etc. We are also the pioneer in developing solutions and advising customers in their digital transformation and construction of digital organizations.
What's more, we pay a lot of attention to research, and you know, research is a critical function and the "brand identity" of a university. In 2014, we established CMC Institute of Science and Technology - CIST for the research and application of new technologies, which has had initial success through the provision of core technology solutions and creation of products with high technology content. Those are the foundation for CMC to rely on in developing the strategy for AUAD to become the first digital university in Vietnam. Thanks to that, we are confident to meet the needs of learners with the latest and most appropriate views in the context of society today.
Last but not least is taking care of the output. CMC guarantees that after graduating, students will have lots of good job opportunities at member companies within the corporation as well as the top companies in Vietnam and other countries in the world. We've already had all three factors of a modern university, instead of trying to obtain them after announcing our investment in AUAD. So how can we not be confident?
- Once again, you challenge yourself with a new and difficult project. Now we understand why, after nearly 30 years of development, you still tell the press that "the journey of CMC has just begun". What motivation has helped you keep your enthusiasm through the decades?
- This is something that I always repeat to myself and my colleagues. Life always goes on and changes with increasingly fast speed and uncertainty. If one does not want to be left behind or rejected, he needs to adapt by changing himself faster than how life changes itself. No matter how big an organization or a business is, without changing, moving forward or maintaining its growth, it is easy to be left behind or even eliminated, as in the case of Nokia or Compaq. This is also our motivation, motto and goal, which is reflected right in one of the core values of CMC - speed. At CMC, there is a jargon called "C-speed", which is short for light speed and speed of CMC people. We have to reach the highest speed that is approximately equal to light speed to deal with and overcome challenges and develop every day. That is our enthusiasm. You need to think that you always have to change and refresh yourself. It is the most important motivation to stay enthusiastic for development.
- Your answer is making us curious. So, in 2022, what is the most important strategy that you and CMC are focusing in to constantly change and adapt?