Chairman of CMC: The next milestone for technology companies to "conquer" will be marked by AI
After Cloud computing has become popular, the next milestone will be artificial intelligence with devices that are capable of handling thousands of tasks at once, replacing human or analyzing big data in an intelligent way for users, said Mr. Nguyen Trung Chinh, Chairman of CMC.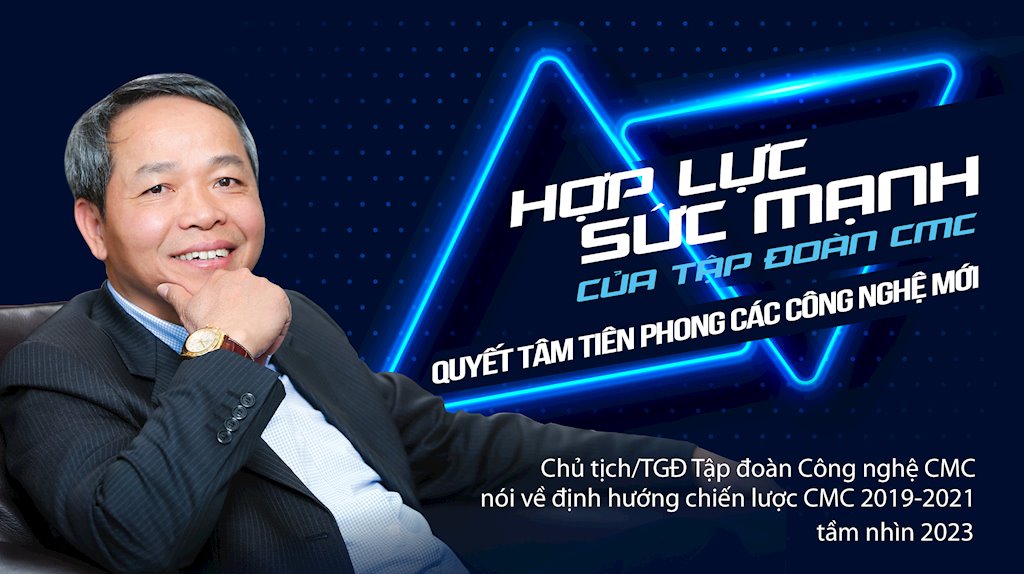 CMC still focuses on making quality of products and services the top priority
As of the end of November 2018, accumulated revenue of CMC Corporation has reached 4,210 billion VND with pre-tax profit of 260 billion VND. It is expected that for the whole year of 2018, the Corporation's revenue will reach 5,917 billion VND and its pre-tax profit will be 374 billion VND (123% of the plan). It can be said that this achievement is associated with the keyword "Cloud", as cloud computing (a computing model which uses computer technology and is developed on the basis of Internet) leaves its mark on all 3 main business pillars of the Corporation: System Integration (SI), Software and Telecommunications. Specifically, in 2018, CMC System Integration Co.,Ltd. (CMC SI) has switched direction of its services to infrastructure - application - data - security, focusing on Cloud security, Hybrid Cloud, multi-platform integration & API, developing the solution of customer experience 360 (CSS), etc. with the vision of becoming the No.1 system integration company in Vietnam to provide global services and On Cloud services by 2023. Also in this period, CMC Corporation is focusing on investing in the field of information security and initially reaping benefits with CMC Information Security JSC (CMC Infosec), such as strategic cooperation with 4 pillars of Information Security of the Government, CISE products dominate market shares at key ministries and agencies, security services are deployed for 50% of banks in Vietnam, etc.
In the field of Software, 2018 is a successful year of CMC Software Solution Co.,Ltd. (CMC Soft) as they continuously gain great successes, such as the strategic cooperation contract with SAMSUNG SDS from June 2018 to deploy SAMSUNG SDS MES solution for management and operation of intelligent factories, which is integrated on the Cloud platform. By the end of 2018, CMC Soft still maintained its position as the No.1 software company in terms of products for the market of electronic office, and No.1 on the market of public finance with clients such as Ministry of Finance, Tax agencies, Customs agencies, Treasuries, etc. The vision of CMC Soft is to become the No.1 company to provide software solutions/services by 2023. Also in this field, in 2018, Ciber-CMC joint venture signed a strategic cooperation agreement with Denmark's Approxima, which was witnessed by Prime Ministers of both countries. The agreement aims at developing the European market with diverse solutions on Cloud platform from SAP 4 HANA, Microsoft Dynamics CRM, SAP Support AMS and SAP to Global, etc.
Telecommunications remains one of the main pillars of CMC Corporation when CMC Telecommunications Infrastructure Corporation (CMC Telecom) is currently in the Top 5 Telecommunications - Internet enterprises in Vietnam. In 2018, CMC Telecom has focused on improving product quality, providing professional and intensive services according to international standards, receiving certificates such as PCI DSS 3.2, MEF 3.0, etc. CMC Telecom is a pioneer in creating and providing "Cloud ecosystem" including transmission infrastructure, data centers, solutions and applications to support the handling of complex problems such as Machine Learning, Artificial Intelligence (AI), video/image analysis, Big Data analysis, etc. CMC Cloud by CMC Telecom is also the top-notch cloud ecosystem in Vietnam, and the company is the only partner in Vietnam to provide direct data connection to AWS, Microsoft Azure, Google and IBM, meeting the needs of various customer segments, from state agencies, education chains, e-commerce, multinational corporations, industrial parks to banks and financial institutions. The Customer-Centric culture,, which CMC is building, has contributed to the success of CMC Telecom as well as of CMC Corporation in the past years. CMC always puts itself in customer's shoes, strives to understand the needs and difficulties of customers and personalizes products and services as desired by customers, which revolve around the need of digital transformation.
Talking about the achievements in 2018, Mr. Nguyen Trung Chinh, Chairman of CMC Corporation said: "In 2018, CMC has had a lot of achievements. Some strategic investments have started to be successful, such as information security. We also have signed agreements and cooperated with major customers and clients, both domestic and international. That being said, we do not rest on laurels. The era of technological breakthroughs has started. IoT, Big Data, AI, etc. are no longer strangers, and even big technology companies like Microsoft, SAP or Oracle are now being threatened and have to change their structure. Therefore, CMC still focus on putting quality of products and services as our top priority, and outline a strategy for the future, which requires the whole Corporation to work together to gain success."
Mr. Nguyen Trung Chinh said that the digital life and digital era are like a sky of opportunities for businesses, especially technology companies. However, there are also many challenges await. Thanks to technology tools and global Internet connections, business opportunities around the world are now open to every industry, from transportation to service and finance, etc. However, without good preparation, businesses may lag behind and go bankrupt. In the technology industry, traditional SI companies such as SAP, Oracle, SAMSUNG, etc. are also actively changing to provide services on Internet and cloud platform, and CMC Corporation also needs to constantly change and keep up with new technology trends in order to create values and differences.
Mr. Chinh also said that, after Cloud has become trendy and popular, the next milestone for tech companies to "conquer" will be marked by Artificial Intelligence - AI, with devices that are capable of handling thousands of tasks at once, replacing human or analyzing big data in an intelligent and effective way for users. The investment to establish CMC Institute of Science and Technology (CIST) confirms the desire to pioneer and master new technology of CMC. Technology professors and engineers at CIST are actively gaining head start of new AI trends for deployment and practical application in Vietnam, as well as organizing "CMC- AI Contest" for students and research students to attract talents and new innovative technology ideas.
Ông Chính cũng nhận định, sau khi Cloud đã trở thành xu hướng và phổ biến, dấu mốc tiếp theo để các công ty công nghệ "chinh phục" sẽ có dấu ấn của trí tuệ nhân tạo – AI (Artificial Intelligence) với các thiết bị xử lý hàng ngàn thao tác công việc cùng một lúc, có khả năng thay thế con người, hay phân tích dữ liệu lớn (Big Data) một cách thông minh và hiệu quả cho người dùng. Việc đầu tư thành lập Viện Nghiên cứu Ứng dụng Công nghệ CMC (CIST) khẳng định mong muốn tiên phong, làm chủ công nghệ mới của CMC, khi những giáo sư, kĩ sư công nghệ tại CIST đang tích cực đón đầu các xu hướng AI mới để triển khai và đưa vào ứng dụng thực tế tại Việt Nam, cũng như tổ chức các cuộc thi "CMC-AI Contest" cho sinh viên, nghiên cứu sinh để thu hút nhân tài, ý tưởng sáng tạo công nghệ mới.
CMC Chairman wishes to build an open platform ecosystem for businesses
Talking about technology vision in the future, digital life is bringing a lot of opportunities for CMC to leap up, not only in domestic market but also expand to very potential international markets like Japan, South Korea, or Southeast Asia. In order to do that, in each of its business fields, CMC is having transformation in terms of competency and technology foundation. In the field of system integration, CMC SI has affirmed that it will be a creator of smart business platform and a reliable partner to accompany enterprises in their digital transformation. The field of software, with the keyword of "smart everything", is both an opportunity and a challenge, as many current software companies must change their operating model or cease to exist. There is no place for a single, small company to provide for many customers - it needs to belong to a value chain or to be a member of an ecosystem to survive. The desire of CMC Soft is that by 2020, it can realize smart cities, smart factories, smart farms, smart buildings; build electronic government and digital tools that take users as their center and improve industry-wide operational efficiency. CMC Telecom expresses its desire to become a pioneer and strongly believes that its new technology and telecommunications solutions will be high-end proposals for clients, and the company is ready to use new technologies.
Mr. Nguyen Trung Chinh also said that, in the flat world and the knowledge economy today, no business, organization or person can stand alone - they can only survive and develop in a symbiotic ecosystem that is balanced and develops by itself. Therefore, Mr. Chinh is looking forward to building an open- platform ecosystem for businesses. CMC Open Platform Ecosystems for Enterprises (CMC OPE2N) will become the place where all clients and partners of CMC can find appropriate technology solutions, share values and develop together. In order to achieve this, the Corporation needs the synergy from all three strong pillars: System integration, Software and Telecommunications. As described by Mr. Chinh: "CMC OPE2N ecosystem has an open telecommunications infrastructure for businesses and organizations such as Data Center, which is connected to GPON fiber optic network to provide an open and neutral connection point for all partners; Multi Cloud - Open Cloud, a cloud computing application with open environment to provide open connection for all partners and leading enterprises in the world and in Vietnam, such as Google, AWS, Microsoft, Facebook, etc. At the same time, security for communities in the ecosystem are still ensured, and API standards are in place for connection of users. CMC OPE2N ecosystem also provides services for corporate clients, SMEs, state management system, with the participation of many large partners and clients of CMC in the technology industry. Mr. Chinh put a lot of faith in a "B2B2C ecosystem" to bring benefits to end users, and affirmed that CMC Corporation will complete and launch CMC OPE2N ecosystem in early 2019.
ICT News