CMC helps children with cleft lip and palate to continue their dreams
Recently, representatives of CMC attended the event of the charity surgery program for patients born with cleft lip and palate at Vietnam - Cuba Hospital. At the event, CMC donated the cost of surgery to 29 children who are unfortunately suffering from the deformities, equivalent to 290 million VND.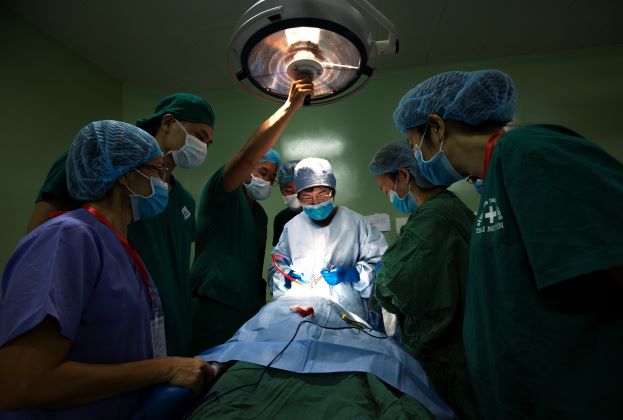 The event was held by Operation Smile Vietnam in collaboration with Vietnam - Cuba Hospital and sponsors, with the desire to bring new smiles to children across the country.
Nguyen Thanh Dat - the little child of his parents
Parenthood is an emotional journey - it's usually not easy, especially when your child is different than others. For a child born with facial deformities, his parents have inconsolable worries. On the day he has the first surgery, their feelings also cannot be expressed in words. As they wait for the surgery to end, they are worried if their child is doing well or he is crying and throwing a tantrum, or if the surgery is successful. The story of Nguyen Thanh Dat and his parents has of all those feelings.
Dat was born and raised in Phong Dien, Can Tho. His family is not well-off enough for him to start his treatment early. Luckily, his parents received a notification from Operation Smile. At only 6 months old, the little boy underwent his first surgery. As it ended with success, his parents burst into tears seeing their son taking a step closer to having his own bright smile.
At 12 months old, Dat's parents took him to Ho Chi Minh City for the second surgery. Due to living far away, they arrived at the hospital early. Although this was their second time, the feelings remained unchanged. Dat's father is busy at work, but he never neglects his little son. Everyday, he goes between the hospital and home to help his wife take care of Dat.
Dat is also very well-behaved and cooperative with doctors, which makes the surgery easier than ever. Thanks to his parents' care and the devotion of the doctors, his second surgery is also a success. After that, his parents are also somewhat relieved. Dat will have to undergo more surgeries to have a perfect smile. Despite that, his parents will still take him to periodic examinations in order for their little son to truly smile.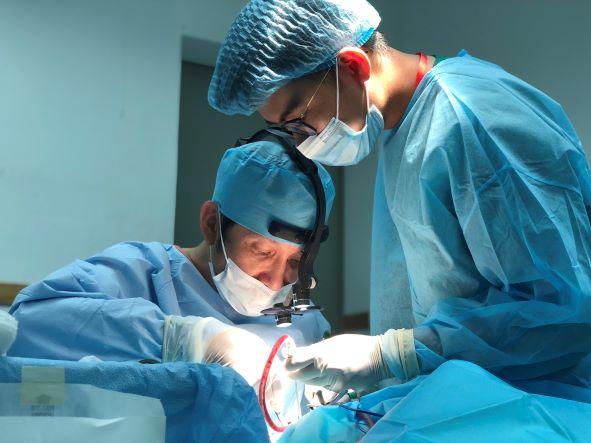 Ly A Di - a lucky boy on the journey to find his smile
As a father whose son is sponsored by CMC to undergo surgery, Mr. Ly A Pao from Son La could not help being touched: "From the bottom of my heart, I don't know what else to say beside thanking the doctors, organizations and sponsors for helping my son to receive surgery and have a smile like all other children."
Mr. Pao departed from Son La at 8 pm and reached Hanoi at 5am - i.e. he has to travel more than 300 km to complete the procedures for his son to undergo the surgery. The 5-year-old Ly A Di is his firstborn. At birth, the child already had cleft lip and palate. "Our lives are very difficult and lack many things - a small field is our only source of income. But despite how difficult life is, I will neve give up, so that my son can have his smile and a brighter life," said A Pao.
In the scorching heat of summer in Hanoi, Mr. Pao stays close to Ly A Di in the journey to find his smile. "This is a dream come true not only for our child but also for us parents. I hope there will be more similar programs so that many other children will have the opportunity to undergo surgery and change their lives," said Mr. Ly A Pao.
Turning thoughts into actions, bringing smiles to Vietnamese children
In the month of action for children, CMC Corporation has donated 290 million VND to the fund of Operation Smile to cover the costs of surgery and recovery for 29 children born with facial deformities.
Mr. Nguyen Thanh Luu - Head of Marketing & Communications of the Corporation hopes that, with the support from CMC, many children can continue their dreams. "According to statistics, in Vietnam, there is a case of cleft lip among every 1,000 children born; and the ratio for cleft palate is 1 out of 2,500. So this is a misfortune for any families whose children are born with such deformities. The cost of 10 million VND per each operation is not too much for middle-class and well-off families. However, to those in difficult circumstances, it's a fortune for them to spend. "45 minutes of surgery at the cost of about 10 million VND can give the children a new life, help them to be confident and better integrate to life and contribute to society. That's why we decide to help them have a better life. In particular, the program is even more meaningful when we are accompanied by nearly 2,500 runners being both employees and customers of CMC to spread words about and contribute to the program".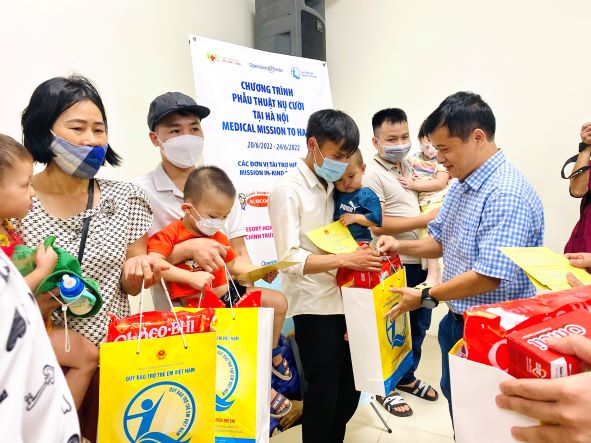 It is expected that in June, around 120 children will receive surgeries for cleft closure and bone grafting (which is nearly 3 times higher than before). Previously, when COVID-19 had yet spread to our country, Vietnam - Cuba Friendship Hospital often organized free consultation and examinations for children with birth defects every month. "The number of patients registered this time increases by more than 200%. Through the funding of businesses such as CMC, VnPay, Vinschool, Bitexco, etc., patients qualified for the surgery will have 100% of their food, travel and accommodation expenses covered. We, the medical staff of the hospital, always enthusiastically and wholeheartedly participate in this program, especially on the occasion of the month of action for children. The medical team is completely confident to master this technique in order to bring smiles to children," said Dr. Nguyen Dinh Phuc, MD - Director of Vietnam - Cuba Friendship Hospital.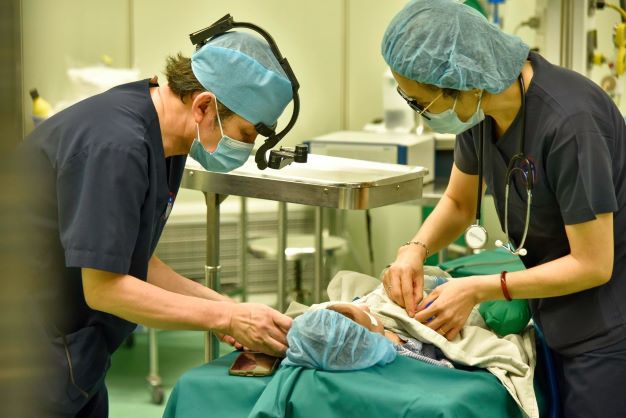 In addition to the support from the hospital, Operation Smile and National Fund for Vietnamese Children also send volunteers to help the children and their families during their stay at the hospital. Ms. Nguyen Thi Hien - Deputy Director of the National Fund for Vietnamese Children ensures that the organization will always accompany doctors to carry out such meaningful programs.
"With the motto of dedication, transparency and timeliness, Operation Smile and Vietnam-Cuba Friendship Hospital are doing their charity programs well. The program is truly like a miracle that gives children a better life. We would like to thank sponsors like CMC for their companionship, because without them, the program would not be as successful as it is today," said Ms. Hien.
This is the second year in a row that CMC holds a running event to support Operation Smile. In 2021, i.e. the 28th anniversary of the Corporation, its Inspiring Run CMC 28 event attracted more than 2,000 runners; as a result, fund was raised to help 28 children born with cleft lip and palate to undergo surgery.
Over the last 2 years, more than 4,500 officers and employees of CMC have collectively contributed more than 50 billion VND to the national Covid prevention fund, as well as medical equipment and supplies to frontline hospitals in Hanoi and Ho Chi Minh City. In addition, CMC running event to raise fund for cleft surgery for children, as well as the blood donation program, have become traditional activities that are held on the corporation's birthday, 26 May of every year.