CMC invests a thousand billion in Asia University of Art and Design
CMC Corporation - the leading technology firm in Vietnam has officially invested a thousand billion VND in Asia University of Art and Design, marking a new step forward in its plan to invest in the education sector.
Recently, CMC Corporation has held a signing ceremony for strategic investment and cooperation with Asia University Investment Joint Stock Company. Accordingly, CMC Corporation will become the strategic investor of Asia University of Art and Design (AUAD) and at the same time cooperate to build international-quality training programs for major fields of Industry 4.0. With the motto of "Towards Liberal Education and Education for People", the investment in AUAD is included CMC Corporation's long-term strategy and demonstrates its focus on investing in many aspects of education.
Mr. Nguyen Trung Chinh - President of CMC Corporation and Ms. Nguyen Thu Nga - President of Asia University Investment Joint Stock Company, Chairwoman of Board of Trustees of Asia University of Art and Design sign the strategic investment and cooperation agreement.
"The strategic goal of CMC is becoming a global, world-class company with revenue of 1 billion USD and over 10,000 employees by 2025. CMC has high demand for human resources for technology development; however, the current human resources market is yet to fully meet this demand. CMC's investment in education is first and foremost for it to have high-quality human resources in the future. Socially, the CPV, the State and people of Vietnam pay a lot of attention to education and training. Therefore, CMC wishes to make it contributions in training an elite generation that will serve the community in the future. - said Mr. Nguyen Trung Chinh at the ceremony.
CMC Corporation has affirmed its position through key business activities in 3 fields: Technology & Solution, Global Business, and Telecommunications. In its strategy to 2025, CMC aims to become a digital corporation with 10,000 employees and 1 billion USD in revenue, as well as the leading digital transformation service consultant and provider in Vietnam. In addition, CMC also researches and develops products, services and solutions with its own imprint.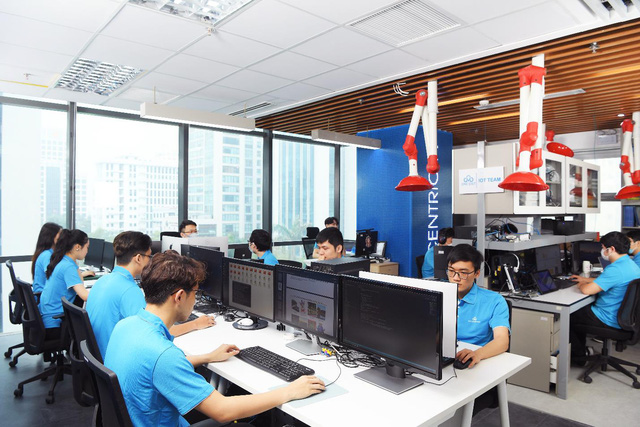 CMC Corporation aims to develop Asia University of Art and Design into the first digital university in Vietnam.
In Vietnam, CMC Corporation is known as an ideal destination for IT students. It is expected that by 2025, CMC Corporation needs 10,000 to 15,000 employees, including 5,000 senior officers. This is a good chance for many candidates to become a member of CMC, Samsung and other domestic and international partners of the corporation; at the same time, the door is also opened to students of Asia University of Art and Design. Excellent IT students of Asia University of Art and Design will have more chances to not only experience how big corporations like CMC work right from their first year at the university, but also improve their qualifications and apply for positions in the corporation.
Accompanying Asia University of Art and Design in its development towards becoming the first digital university in Vietnam, CMC Corporation will assist the transfer of technology for teaching and digital transformation of all services for students, including procedures, examinations, learning materials, utilities, digital library, etc. Especially, in 2022, CMC Corporation also establishes a "huge" scholarship fund with total value of 80 billion VND for AUAD's freshmen with outstanding achievements. With the maximum care and encouragement for the study of students, CMC Corporation has proved its role as the incubator and the foundation for all innovative activities of AUAD.
Before, CMC Corporation has also made a lot of investments for the development of Vietnamese education, such as: presenting nearly 6,000 tablet computers integrated with mobiEdu solution to disadvantaged students; presenting computers, ventilators and server system to Hanoi Medical University; signing for cooperation in ICT research and training with big universities of the country and the world, etc. CMC has been providing technical support to many big universities in Vietnam in order to contribute to increasing the quality of training science and technology human resources for the country. In addition, CMC also makes huge investments in R&D activities through the establishment of CMC Institute of Science and Technology (CIST) in 2014 and CMC Creative Fund for new technology research and development. With the investment and sponsorship of CMC Corporation, AUAD will have a new vision and mission, and is promised a better future for its later development. For more information about AUAD, visit https://daihocachau.edu.vn/