CMC products blow the minds of visitors at VIIE 2023
Vietnam International Innovation Expo 2023 (VIIE 2023) is being held from 28 October to 1 November 2023 at National Innovation Center, Hoa Lac Hi-Tech Park (NIC). At the event, CMC Corporation (CMC) is honored to participate in many activities, as well as to display its pioneering, innovative and creative technology products.
CMC is committed to accompanying innovation
Hosted by Ministry of Planning and Investment and NIC in collaboration with other prestigious partners, Vietnam International Innovation Expo 2023 (VIIE 2023) takes place in 5 days, from 28 October to 1 November 2023. This is a world-class event that brings together about 300 leading domestic and international technology enterprises. Apart from CMC, other participants are entities in the innovation ecosystem, i.e. the network of state agencies, experts, research institutes, intellectuals, investment funds, and consulting organizations.
On the morning of 28 October, the exhibition was kickstarted in conjunction with the inauguration of NIC's new premises in Hoa Lac Hi-tech Park in the presence of Prime Minister Pham Minh Chinh and Minister of Planning and Investment Nguyen Chi Dung. Mr. Nguyen Trung Chinh - President of CMC and other delegates were also present.
Speaking at the ceremony, Prime Minister Pham Minh Chinh affirmed: "Innovation is an inevitable trend, a strategic breakthrough choice that reality requires, and thus deserves to be one of the top priorities in our country. The inauguration of NIC has a great significance in the development of Vietnam's start-up and innovation ecosystem, clearly demonstrating the spirit of "dare to think, dare to do and dare to innovate."
Prime Minister Pham Minh Chinh speaks at NIC's new premises inauguration ceremony
Prominent international technology enterprises, such as CMC, Viettel, Google, Samsung, and investment funds including ThinkZone, BK Holdings, etc. will have many activities at VIIE 2023.
Attending the inauguration ceremony of NIC Hoa Lac, CMC President Nguyen Trung Chinh expressed the company's support to the Prime Minister's call and its willingness to be a part of innovation activities. Accordingly, CMC is committed to being one of the pioneering enterprises in terms of investment in the innovation development in Vietnam, with the bigger goal of turning Vietnam into a modern and strong country on the world technology map.
In particular, at the opening ceremony this morning, CMC Applied Technology Institute (ATI) was honored with a place in Top 12 Innovation Solutions in Vietnam 2023. Surpassing 758 solutions and products from 10 countries and territories, CIVAMS - the solution developed by CMC ATI is highly appreciated for its ability to strongly promote digital transformation at enterprises, from which it has earned the Future Transformation Award.
The intelligent image processing and management solution (CIVAMS) has been developed and deployed by CMC Applied Technology Institute since 2019
In the next 5 days, the exhibition will proceed with activities to display and introduce new products and technologies in 8 key focus areas of NIC, namely: Smart Manufacturing, Smart City, Digital Media, Environmental Technology, Cybersecurity, Semiconductor, Hydrogen and Healthcare. At the same time, other sideline events such as: seminars on semiconductor industry, hydrogen energy, game industry; Vietnam Venture Summit (VVS); STEAM Festival; Better Choice Award, etc. will also be held.
Success from prestige and modern technology
This year, CMC brought to VIIE representative products researched and developed by its member companies. This is the result of the investment in advanced technology and techniques during 30 years of growth of the Corporation. Especially, CMC is honored to welcome Prime Minister Pham Minh Chinh, Minister of Planning and Investment Nguyen Chi Dung and other delegates from within the country and overseas to its exhibition booth.
Mr. Le Minh - CTO of CMC TS welcomes senior leaders to the Corporation's exhibition booth
The leaders and delegates attentively listened to Mr. Le Minh - CTO of CMC TS, representative of CMC introducing the Corporation's business activities in 4 key areas, namely: Telecommunication Infrastructure, Technology & Solution, International Business and Research & Education. At the same time, they also highly appreciated CMC's innovative and breakthrough technological products after directly experiencing them at the exhibition booth.
CMC combined both displaying physical products and using motion graphic technology to bring new and visual experiences to visitors. In particular, the effective application of light technology provided a multi-sensory experience to the participants. Through which, a comprehensive picture of one of the leading technology groups in Vietnam that always pioneers in terms of innovation and creativity is presented to the surprise and excitement of everyone.
Ms. Nguyen Kim Thanh, representative of a company in Thai Nguyen said: "For my first time attending the International Innovation Expo, I am taken by surprise and impressed by CMC's booth. I think this booth is elaborately arranged with focus on even the slightest detail. Also, I find the company has a very diverse product range, which is worthy of them being a leading IT enterprise in Vietnam."
After experiencing the face recognition system CIVAMS - an innovative product of CMC ATI, which is able to identify faces with accuracy of up to 99% - and studying the analytical parameters for Secure City, Smart Building and Smart Commerce, Mr. Hiroki Hatashi (62 y.o, Japanese) said: "I have researched this system on the Internet before and thought it was a very good product. But when I actually see the clear images and the figures that prove high security, I am truly surprised because they are even better than I ever imagined".
For the event, CMC also brought breakthrough solutions developed and optimized based on 3 technology pillars of digital transformation, namely: Digital Government, Digital Economy & Digital Society. Many smart technologies developed by the Corporation itself were also demonstrated at the event. Introduced at the exhibition, CMC Cloud has many innovative features and services to help businesses quickly and efficiently build smart factories. With the advantage of digital infrastructure, transmission line and Data Center, CMC Cloud is currently of service to tens of thousands of Vietnamese enterprises who are starting their "go cloud" and digital transformation journey. With an international standard architecture, CMC Cloud also meets rigorous requirements for system design and information security, stability and scalability, and compliance with top security criteria.
CMC TS' suite of sample text recognition solutions combining natural language processing, Robotic Process Automation (RPA), Electronic Contracts and Electronic Signatures is also of interest to many business customers. This solution package offers many new digital experience to users, as all signing processes are done online, anytime and anywhere via a variety of devices such as desktops, tablets, mobile phones, etc. while ensuring maximum legality and security. Through the exhibition, CMC has contributed to raise awareness of digital transformation and directly guide businesses and organizations to digitally transform.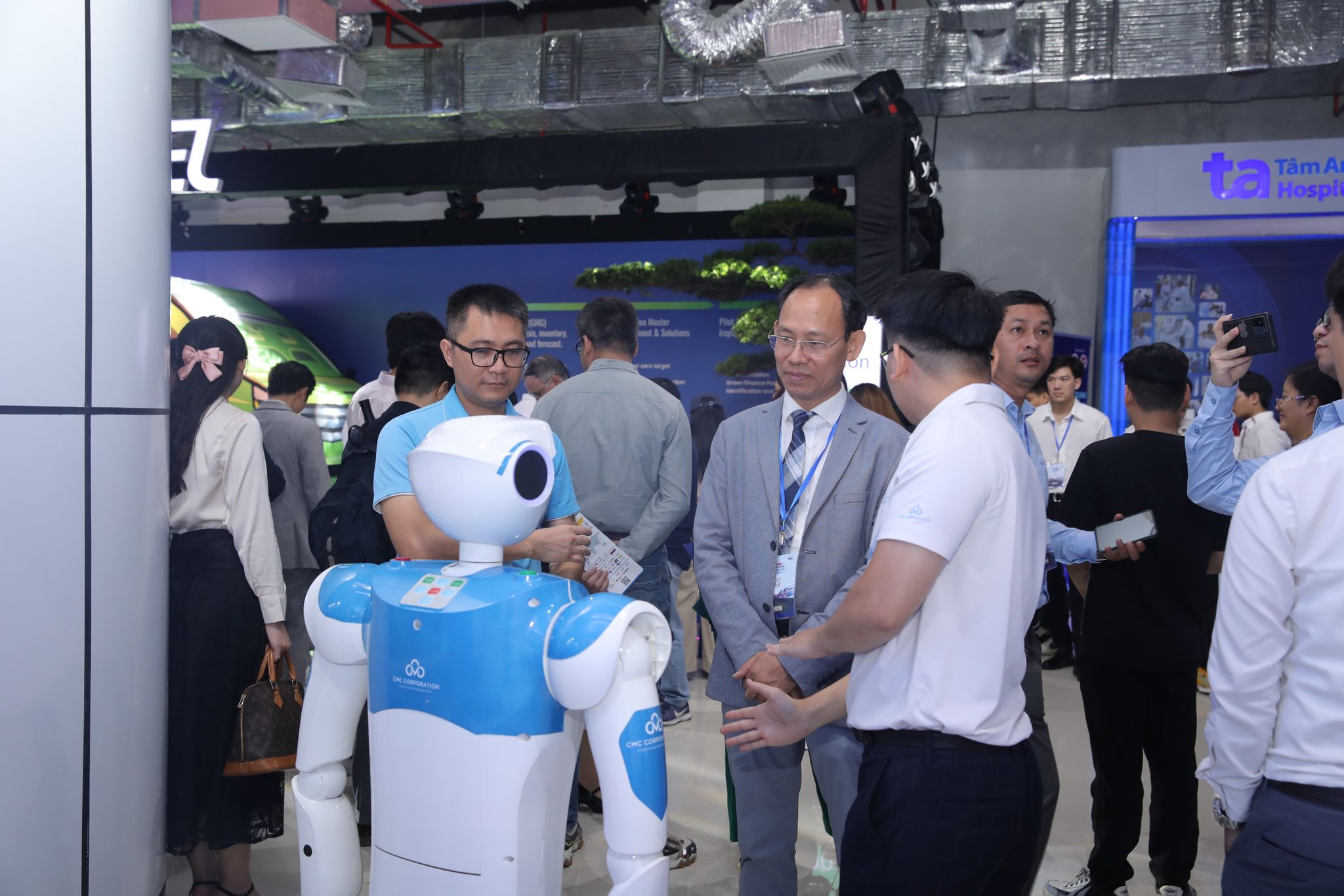 At the exhibition, CMC products attract a large number of visitors thanks to their clear demonstration of innovation and technological pioneering spirit.
As a top ITO company in Vietnam, CMC Global specializes in outstanding products, services and solutions for domestic and foreign customers to successfully and flexibly achieve digital transformation. These products and solutions not only mark the achievements of CMC in the field of IT solution development, but also a step forward in mastering new technologies - a goal that the Corporation has set and pursued during the past years. With the strength of world-class service ahead the new wave of technology, CMC Global is very confident on its journey to become a leading digital transformation company in the region in the next 5 years.
Mr. Ho Thanh Tung - CEO of CMC affirmed: "CMC's technology products always meet customers' requirements. We are confident and committed to providing products that are always up to date in terms of technology, constantly improving, innovative and user-oriented".
"The exhibition showcases modern and highly applicable technology products and services that are of interest to millions of technology consumers. This is not only a place to connect the actors of Vietnamese technology ecosystem but also a bridge between Vietnam and the world in exchanging and sharing typical innovation achievements ", said the event's Organizing Committee.