CMC Telecom attends Telecoms World Asia
Recently, representatives of CMC Telecom attended Telecoms World Asia conference in Bangkok, Thailand.
At the conference, Mr. Dang Tung Son - DCEO/CMO of CMC Telecom presented the key note "CMC Telecom From Telco to Digital Infrastructure Provider - Telco DC case study". The representative of CMC Telecom also talked about how the company has moved from being a TOP 4 ISP in Vietnam to being a digital infrastructure leader in cloud computing and Data Center market.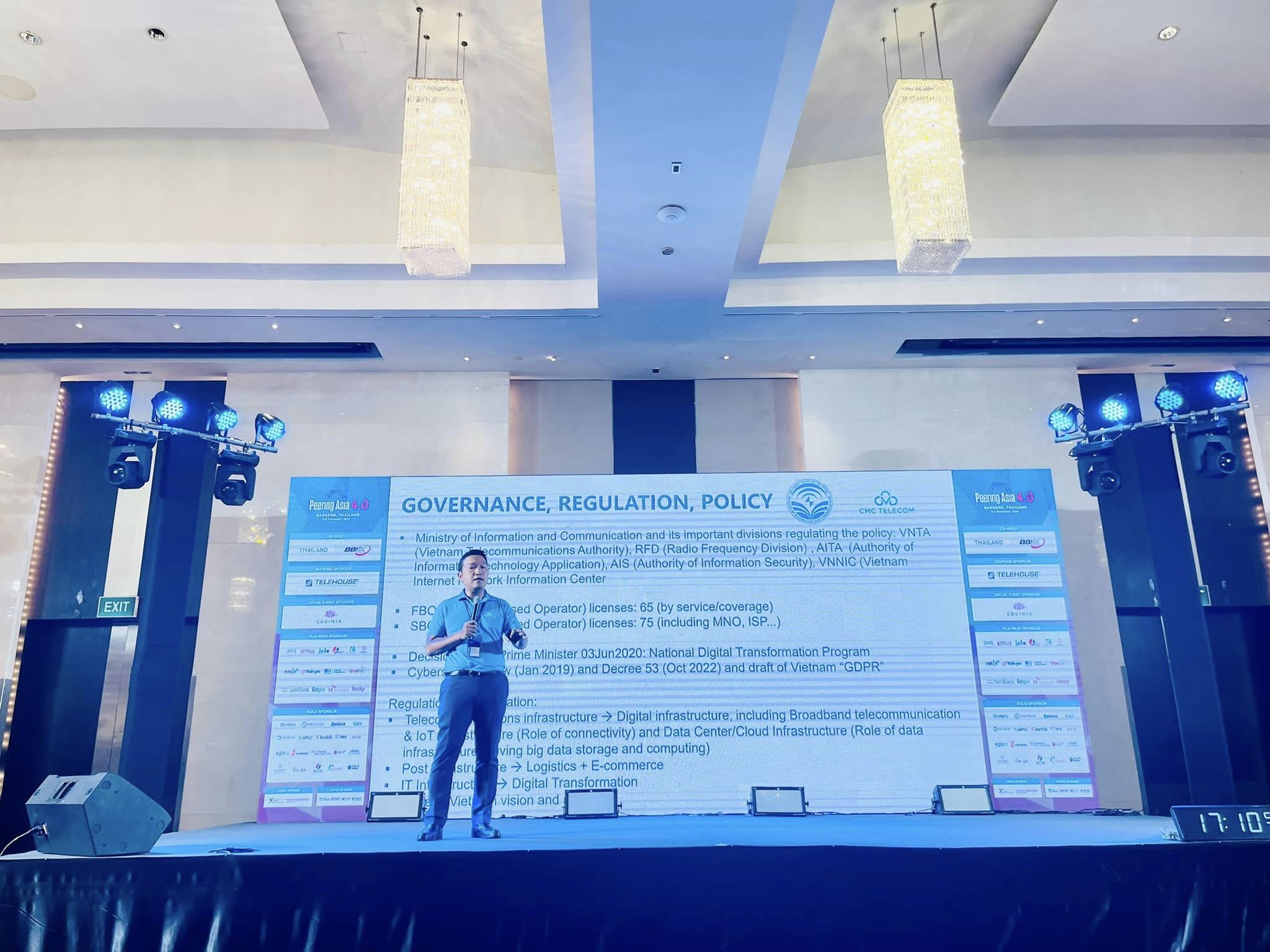 Mr. Dang Tung Son- DCEO/CMO of CMC Telecom
In the standard Digital Infrastructure ecosystem, if the smooth telecommunications network is the vessel, then Data Center is the heart. Tan Thuan Data Center is the most modern and secure data center in Vietnam and APAC region. It offers better connectivity and service to businesses, with a network of 1,200 high-capacity racks of 20kw/rack in an area of 10,000 m2. This data center is designed by B-Barcelona Singapore to comply with the strictest standards for a modern DC, such as PCI DSS, TVRA (Threat Vulnerability & Risk Assessments), ISO 27001:2013 / ISO 9001:2015, etc. Especially, Tan Thuan DC is the first and only DC in Vietnam to have the Uptime Tier III certification for both Design and Construction.
Within the framework of Telecom World Asia, Peering Asia 4.0 seminar on Peering connectivity in the Asia Pacific region organized by APNIC and BBIX, ThailandIX was also held. As Vice President of Vietnam Internet Association, Mr. Son talked about "Vietnam Digital Infrastructure Landscape", providing useful and up-to-date information about digital infrastructure in Vietnam, as well as the aspiration for Vietnam to become a Digital Hub in the region.
"If Vietnam wants to catch the Industry 4.0 train to develop based on high technology and become a digital hub, digital infrastructure is the prerequisite that must be met. CMC Telecom's strategy is to cooperate with leading technology companies in the world to turn Vietnam into a Digital Hub of the region," said Mr. Dang Tung Son.
Telecom World Asia is held offline in Thailand in 2-3 November 2022.
This is one of the most prestigious annual conferences in Asia, bringing together more than 1200 managers and experts in the fields of telecommunications and IT in the region. After two years of disruption due to Covid, Telecom World Asia has been held offiline in Thailand in 2-3 November 2022 with the theme of "Digital Transformation for Asian Telcos". The conference focuses on discussing the future of telecommunications, 5G, Big Data, AI, digital economy and digital transformation, etc.