CMC Telecom becomes the distributor of Akamai CDN in Vietnam
From June 2020, CMC Telecom will become the representative to distribute the Content Delivery Network (CDN) service of the giant Akamai in Vietnam.
Akamai was founded in 1998 and is the first to invent CDN. Over 22 years of development, Akamai is currently the world's largest provider of CDN. According to the 2019 report, Akamai is serving up to 30% of web traffic worldwide everyday, and 90% of the world's leading digital content providers are using Akamai for their digital/OTT strategy.
By 2019, the entire system of Akamai has about 300,000 servers, with nearly 1,700 internet service providers (ISP) located in 3,900 regions in 135 countries across the globe. In Vietnam, Akamai has nearly 800 servers in Hanoi, Da Nang and Ho Chi Minh City. With a large number of servers, the content delivered through Akamai's distribution channel will have the maximum data transmission speed. All large data such as images or videos will be distributed to end-users in the fastest manner and with the sharpest quality.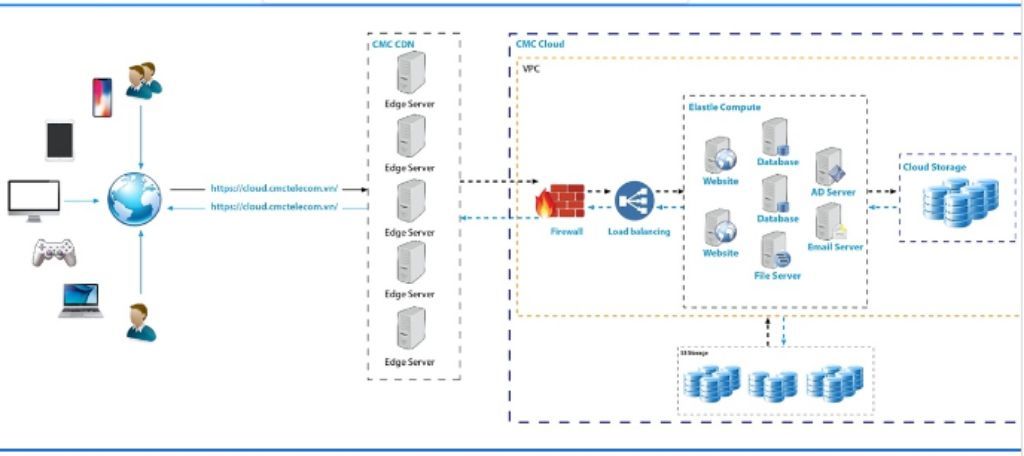 CMC Content Delivery Network deployment model
Talking about the solution to increase user experience with CDN, Mr. Jeff Hu - Technical Director of Akamai said: "Through many years of doing business and being at the forefront of CDN services and solutions to increase user experience, world prestigious companies always appreciate the services provided by Akamai. User demands to connect to the Internet via mobile devices, IOT, computers and television are very large, thus the need for content distribution is ever increasing. The standard metric for today is the benchmark for tomorrow, and tomorrow will undoubtedly witness an even further breakthrough. Akamai and CMC Telecom will always accompany content providers, e-commerce businesses, etc. in bringing about ideal digital experience which are effectively supported by CDN service with the goal of achieving an impressive revenue boost."
In addition to CDN service, CMC Telecom also cooperates with Akamai in providing high-end monitoring, management and security solutions for domestic and foreign clients. "The cooperation with Akamai to provide CDN service is the next step in CMC Telecom's strategy to cooperate with major technology companies in the world. As a converged service provider and a company ranked in the Top 4 cloud computing providers in Vietnam, we are confident that the cooperation with Akamai as well as major technology companies in the world will help Vietnamese businesses to take advantage of technology and go faster in the digital transformation." - said Mr. Le Anh Vu - Director of Cloud Computing Technology, CMC Telecom.
With the change in users' internet access behavior, especially after social distancing period, such as holding online conferences, watching videos and livestreaming more, it is not a surprise that OTT video will continue to grow. There are a lot of contents that are being brought online, and this is just the beginning. OTT videos also play an important role in online events (like this conference today). Concerts, sports events, education events, all can go online. Therefore, digital content providers need to understand the behavior and the increasing demand for "digital experience" of users.
CMC Content Delivery Network is a Content Delivery Network service that helps distribute resources such as images, videos and applications to users quickly, securely and efficiently.
CMC Content Delivery Network with multiple PoP caching utilizes high speed bandwidth to accelerate the transmission, reduce the original server load and minimize lags to bring the best user experience to businesses and organizations who are developing and operating content distribution websites (such as electronic newspapers, movie sites, online videos, game software, etc.), e-commerce websites, livestreaming websites, etc.
CMC Telecom is the first telecommunications infrastructure provider in Vietnam to have a cloud platform that directly connects to the platform of technology giants in the world, including AWS, Microsoft and Google.