CMC Telecom wins two digital transformation awards
On the evening of 14 December, at the TOP 10 Vietnam ICT Companies 2020 award ceremony, CMC Telecom was honored with two awards for "TOP 10 digital transformation platform providers" and "TOP 10 digital infrastructure companies" of 2020.
CMC Telecom brought two products to the contest, namely CMC Cloud ecosystem and Data Center. In the field of digital infrastructure, CMC Telecom is highly regarded with its three Tier III carrier-neutral data centers, which are the first in Vietnam to be granted PCI DSS; and another center in Tan Thuan, which is under construction. For digital platforms, CMC Telecom's CMC Cloud is registered as the only platform in Vietnam that directly connects to the cloud platforms of three technology giants of the world: AWS, Microsoft and Google.
A rigorous three-round assessment, including: preliminary assessment of applications; presentation and practical appraisal, and final voting, was started in September. The evaluation council consists of 50 experts in technology, finance, human resources, startups and prestigious journalist in Vietnam, such as Dr. Mai Liem Truc - Former Deputy Minister of Post and Telecommunication; Assoc. Prof., Dr. Truong Gia Binh - President of VINASA; Dr. Nguyễn Thành Phúc - Director of Authority of Information Security - Ministry of Information and Communications, etc.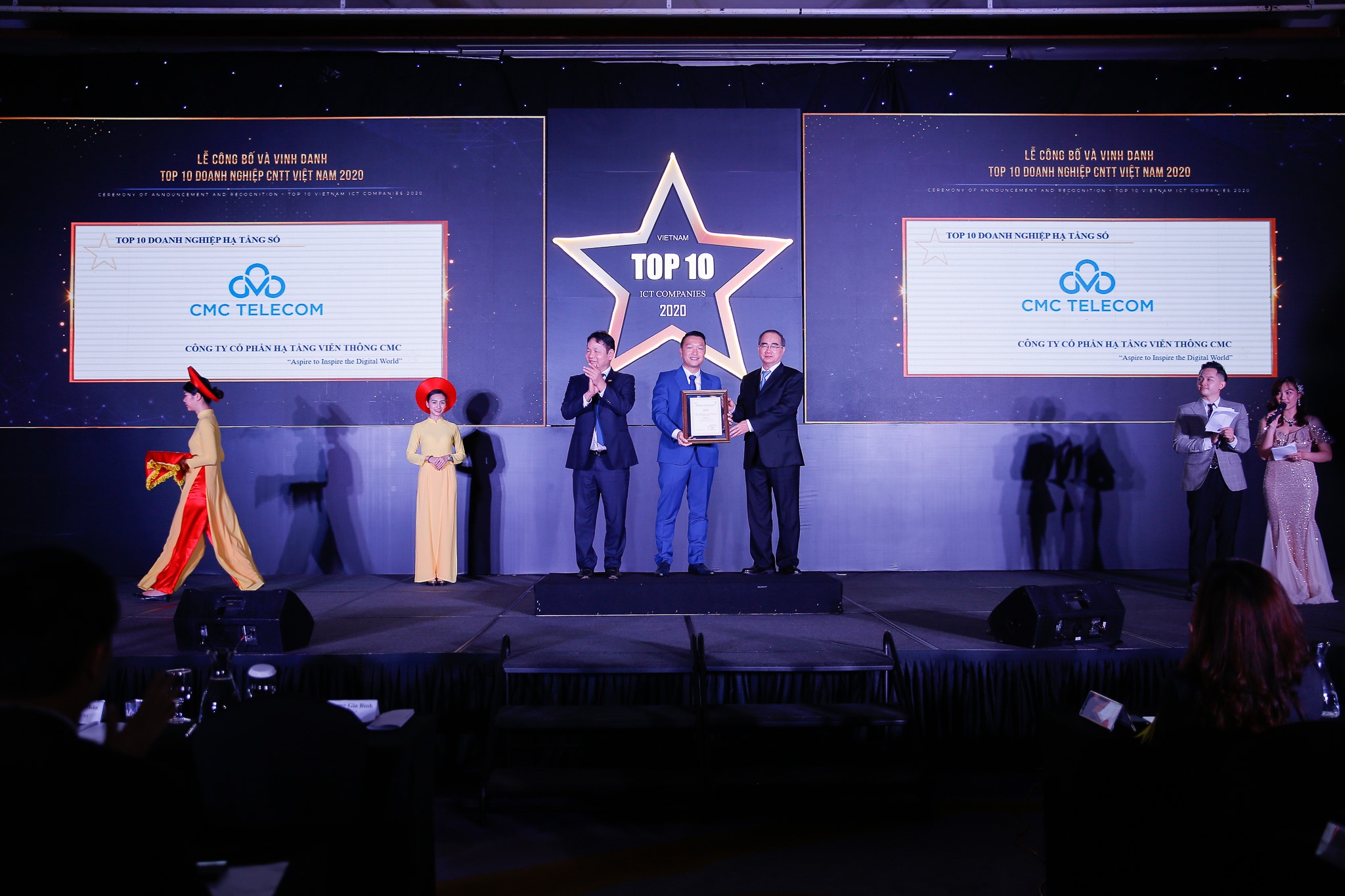 Mr. Dang Tung Son - Deputy General Director of CMC Telecom receives certificate of merit from Mr. Nguyen Thien Nhan - Member of the Politburo, Central Executive Committee of the CPV, former Secretary of Ho Chi Minh City's Party Committee
TOP 10 Vietnam ICT Companies 2020 is initiated by Vietnam Software and IT Services Association (VINASA). The program's name was changed from 50+10 Vietnam leading IT companies, which started in 2014 and has been held annually to date.