Newsroom
Event
Press release
CMS and major technology firms joint hands to build a digital work environment
On the 14th and 15th of December, at the DX Day 2020 hosted by Vinasa, CMS, in collaboration with Samsung and Logitech, officially launched the CMS Smart Meeting Solution for effective interaction and remote work of enterprises and organizations, which is built on the best technology to meet the increasing demand for online interaction and work today.
According to a recent global survey, 98% of employees expect to be able to attend meetings remotely in the future; 53% of enterprises are planning to optimize their office space; and 96% of enterprises wish for smart technologies to improve work environment, digitalize workspace and enhance interaction efficiency.
Understanding the new work trend, the smart meeting solution deployed by CMS applies multi-platform technology to comprehensively meet the demand for online meeting and collaboration, and to bring superior experience to its users.
Active and on-the-go meetings
As a "hybrid" work model that combines office work and remote work, the platform is integrated with modern technology products, including Samsung Flip display, Logitech AI cameras and online meeting software, creating a synchronous and smart solution for enterprises to easily set up a meeting room and connect anytime, anywhere on any device with Internet connection with just one touch.
Working on common operating systems like Windows, iOS, Android, etc. the platform is suitable for all mobile devices and convenient for workers to flexibly work and share information remotely.
Convenient interaction, enhanced experience
Using Samsung Flip, the solution allows users to enjoy a comfortable writing experience on a multicolored digital format, with every backdrop being displayed, and timely note down creative ideas. Remote participants will have a realistic and lively experience as if they are presenting at the place thanks to the perfect display and vivid UHD image quality of Samsung Flip, and the AI online system of Logitech, which produces clear sound and crisp 4K or full HD image. The connectivity is strong despite the distance, thanks to online software such as Zoom Meeting, Microsoft Team or Cisco Webex, which promotes interaction and improve work efficiency.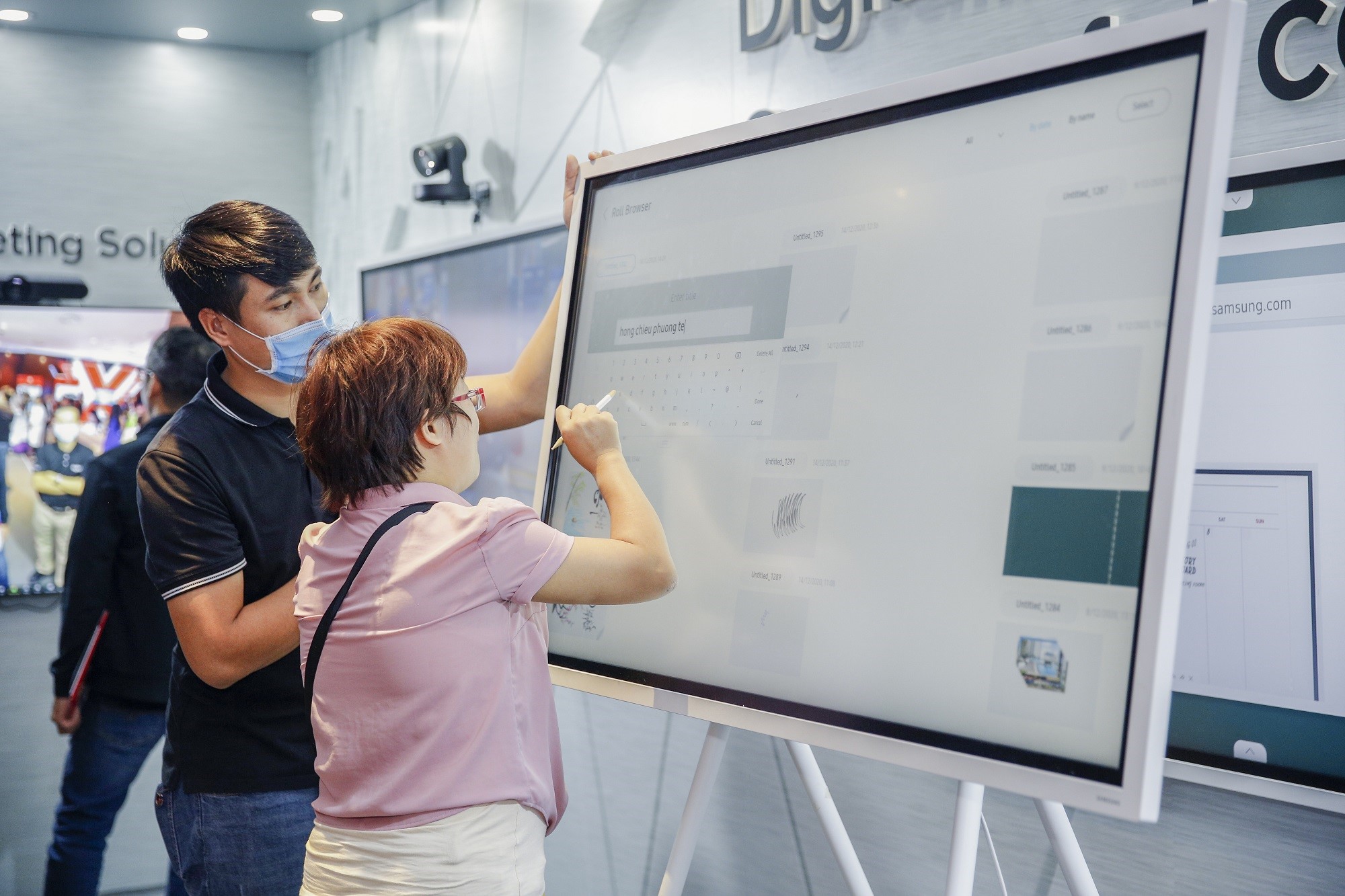 Users enthusiastically experience Samsung Flip
Increase performance, save costs
The solution makes it easy for participants to synchronize data and present everything from mobile phones and devices on the Flip display. All contents of the meeting are stored automatically and shared to relevant people by just one click, increasing collaboration efficiency.
Users can sit at any office and still be able to set up an online meeting to exchange and synchronize information and to make work decisions quickly. The system allows 14 to 18 offline participants and up to 1000 remote connection points (using Zoom Meeting) to join the discussion, and help to expand the scale of the meeting as desired, serving the growing need for remote working of enterprises.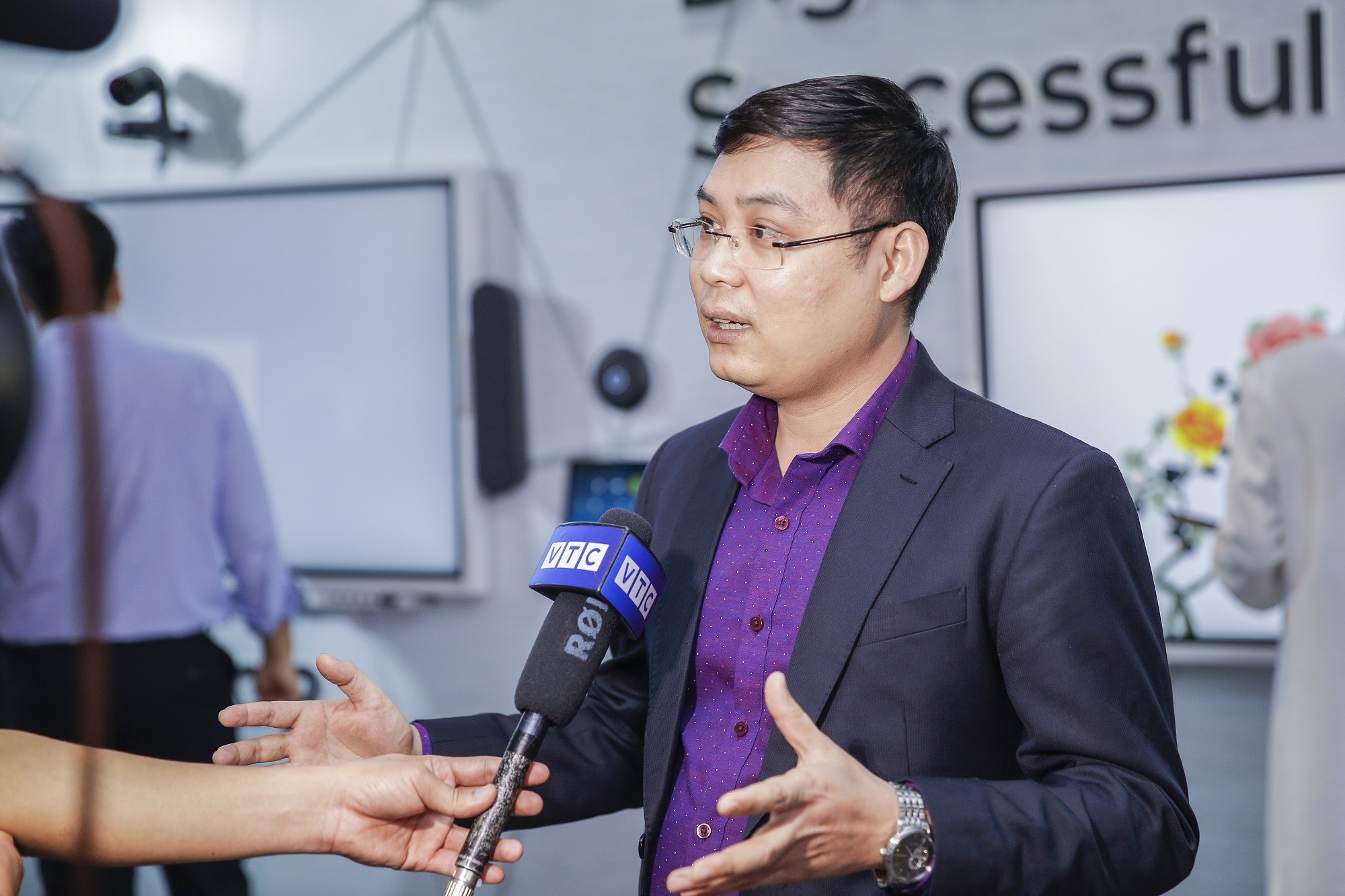 Mr. Cao Duc Nam - Sales Manager of CMS talks about the solution with the press
Saving time and administrative resources, especially minimizing costs up to about 3 times compared to some traditional forms of video conference, CMS Smart Meeting Solution is considered the perfect platform for every meeting.
From now to 31 December 2020, when purchasing CMS Smart Meeting Solution, customers will receive 01 year of free-of-charge use of Zoom.
Sign up for a free trial at the link below: https://docs.google.com/forms/d/10PoR8WAgn_QfukRkOr1V5-1oAI0HvpdEktn94-QUy7k/edit?usp=sharing
CMC Manufacturing and Services Co., Ltd. (CMS Co., Ltd.)
12th Floor, CMC Building, Duy Tan Street, Dich Vong Ward, Cau Giay District, Hanoi
Hotline: 1900 2159
Website: www.cms.com.vn