CMS and Qualcomm introduce smart classroom solution to Long An Department of Education
CMC Manufacturing and Services Co., Ltd. (CMS) - a member company of CMC Corporation, together with Qualcomm introduced OneScreen smart classroom solution along with advanced computer equipment for teaching and learning in the pandemic at "Long An Education Technology Festival 2022 - The Future of Post-Covid Education" on 24 March, 2022.
OneScreen Smart Classroom
The OneScreen solution has outstanding advantages that help attract students with interactive content, and reshape the connection between teachers and students through an interactive screen of 86 inches or more for excellent team collaboration and inspiring teaching and learning experience.
The eGlass smart display board is transparent, allows teachers to stand in front of their students without turning their backs on them, in order to enhance the interaction between teachers and students perfectly.
Gosafe facial recognition and temperature measurement camera system allows for a safe education environment, minimizing unauthorized access to schools while helping to automatically check student attendance and effectively support pandemic prevention.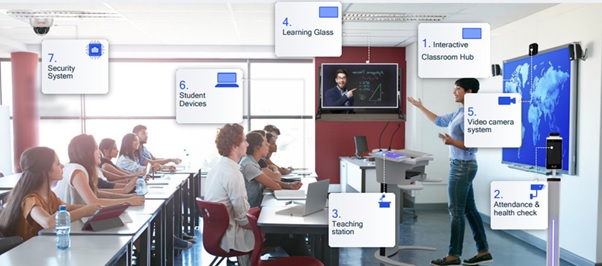 OneScreen Smart Classroom – Shaping the New Learning Era
OneScreen has a full set of teaching tools to make it easier than ever for teachers to develop lecture plans. The mini PC or laptop system integrated with the latest Qualcomm microprocessor allows for smart multitasking, helping to have smooth and quick learning and teaching experience. With this online learning software, students can join the classroom from anywhere.
Through utility tools such as smart podium to show necessary contents to the interactive screen, manage and run the classroom according to the desired features, or the AI CCTV system to ensure classroom safety, teachers can create an effective learning environment that meets the standards similar to the best education foundations of other developed countries.
How different is the OneScreen solution provided by CMS?
While conventional classrooms use individual technology devices such as cameras, online meeting software or interactive monitors, leading to a lack of connectivity and low efficiency, OneScreen is a smart classroom solution designed to synchronously apply both hardware and software in order to create an interesting learning environment, improve the creativity of both teachers and students, and help improve education quality.
CMS officers introduce OneScreen solution to Long An Department of Education
CMS is always committed to dedicatedly and thoughtfully provide after-sales support with a technical team that understands the pedagogical environment, gives guidance on the spot, handles incidents quickly and takes care of customers regularly and periodically.
Talking about the solution, Mr. Nguyen Phuoc Hai - General Director of CMS emphasized: "CMS's mission is to pioneer the provision of smart education solutions to improve teaching and learning efficiency, thereby to make a small contribution to the digital transformation of Vietnam's education, helping the education sector to reach far and keep up with the developed countries in the world."
"Long An Education Technology Festival 2022 – The Future of Post-Covid Education" was organized by Microsoft Vietnam in collaboration with Long An Department of Education and Training and partners to share experiences in applying technology to teaching during the pandemic.
For more information and support about OneScreen solution, please contact hotline: 1900 2159 or send email to: cskh@cmc.com.vn