Expert talks about flexible Cloud strategy for Vietnamese enterprises
"There is no clear and definite choice of Cloud provider for businesses from the beginning," said Mr. Luu Danh Anh Vu, Director of Solution Consulting Center of CMC Telecom.
Mr. Luu Danh Anh Vu, Director of CMC Telecom's Solution Consulting Center talks about cloud computing trend as well as Multi-Cloud and Hybrid-Cloud solutions that CMC Telecom - a pioneer in Vietnam is providing.
What do you think about the cloud computing trend of businesses in the world and Vietnam?
In recent years, cloud computing has been strongly promoted to support fast and efficient deployment of services around the world, especially in Vietnam. Due to the Covid pandemic, the global supply chain was paralyzed, so the procurement of equipment for on-premises storage systems was stalled, and business had to pay much higher costs but still had to wait much longer. In addition, the need for cashless payment and the habit of using online services are increasingly popular.
To meet the needs of customers to the maximum and to increase competitiveness in the market, businesses, from e-commerce platforms to service providers in banking & finance, logistics, etc., are striving to freshen their customer communication and services, transforming App into Super App to provide many utilities at once. The application of new architectures, the flexibility in upgrading and expanding features and the comprehensiveness of Cloud products and services have helped enterprises to reduce their time to market, while still ensuring economic benefits, even cutting costs handsomely without failing to meet requirements for security and compliance.
According to a survey by Gartner, by 2022, 75% of businesses using cloud computing will adopt a Multi-Cloud strategy. It can be seen that Multi-Cloud is not only a trend but also an ongoing practice in the world.
How is the situation of migrating to Cloud of Vietnamese enterprises?
In recent years, the professional knowledge and practical experience of Cloud experts and engineers, such as system architects and Cloud operators, as well as the general Cloud knowledge of business executives have been increased, invested and enhanced. This has been promoting the needs of enterprises to seek and test strategies to modernize information technology systems with higher speed, flexibility, risk-proof capacity and availability. Therefore, many corporations and businesses have been cooperating with leading management consulting firms such as McKinsey or the Big Four (Deloitte, PwC, KPMG, E&Y) for advice on a clearer and more specific Cloud strategy.
A survey by IBM Institute for Business Value (IBV) said that up to 56% of Vietnamese enterprises use cloud management platforms, and Vietnamese businesses are planning to increase their spending on Hybrid Cloud to 43% by 2023.
As Advanced Tier Services Partner of AWS, Premier Partner of Google Cloud and Gold Partner of Microsoft, we recognize the huge demand for Cloud services of businesses. In particular, the demand for connecting to international Cloud centers via CMC Telecom's Cloud Express service in the first two quarters of 2022 has increased by more than 20% compared to the same period last year. CMC Telecom also developed the CMC Cloud computing platform with a growth rate of nearly 200%. Approaching and consulting tens of thousands of businesses over the past time have given CMC Telecom many perspectives and understanding of customers. From which, we see that the speed of migrating to the Cloud is being accelerated faster than ever.

In fact, cloud computing has passed the stage of being a trend, and businesses have begun to talk about how to move to and operate on Cloud, including advanced cloud services (Kubernetes, DevOps, Data Analytics, AIML, etc.) to have high efficiency and bring applications to the market faster at the most optimal cost. Businesses now also need to accelerate application modernization and use Cloud Native services more.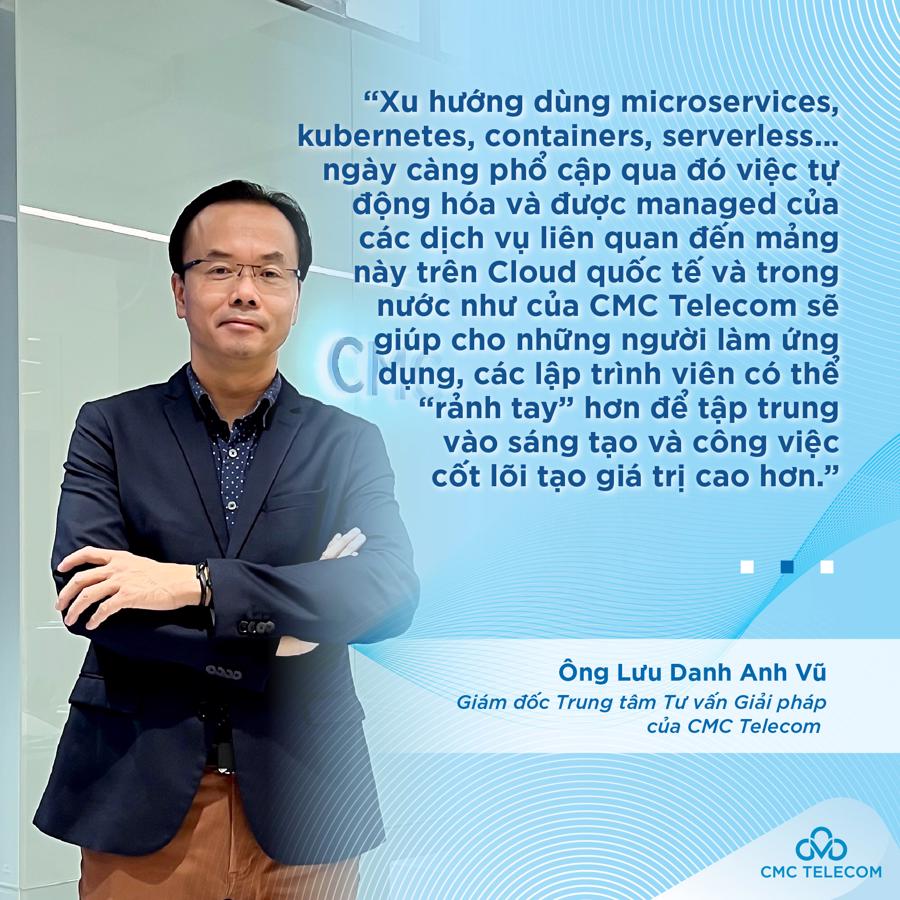 Mr. Luu Danh Anh Vu, Director of Solution Consulting Center of CMC Telecom shares his thought.
As a Multi Cloud service provider, what is the difference in CMC Telecom's strategy?
CMC Cloud is built and operated in a data center ecosystem designed according to international Tier III standards with the highest level of HA (High Availability), DR (Disaster Recovery) and security. The domestic and cross-Southeast Asia backbone routes that directly connect to A-Grid telecommunication network and 05 international undersea cable routes (AAE1, APG, A-Grid, Unity and Faster) help Cloud have the best foundation for development. We can provide direct connection to Regions (AZs) of major cloud providers in the world such as: AWS (via AWS Direct Connect), Google Cloud (via Google Cloud Interconnect), and Microsoft Azure (via Microsoft Azure ExpressRoute), with bandwidth of up to 10Gbps.
From 14 years of working with customers, CMC Telecom has foreseen and had a clear orientation towards Multi-Cloud. We have built a Cloud operation team of more than 300 employees, including a team of engineers and experts to integrate into a continuous chain from solution consulting and engineering to deployment and post-deployment consulting for CMC Cloud and international Cloud platforms like AWS, GCP, Microsoft Azure, which closely follows the company's programs and policies.
According to Decree 53/2022/ND-CP of the Law on Cyber Security: Personal information of service users; Data on relationships of service users; Data generated by service users in Vietnam must be stored in the country. Therefore, Hybrid Cloud or Multi Cloud combined with Make in Vietnam cloud computing platforms will be a safe solution for businesses.
CMC Cloud is a suitable choice for many, especially small and medium-sized businesses that need a flexible Cloud in terms of price, model or system with standard workloads but do not require complex services in terms of quantity and level. We are also preparing to launch an upgraded version of CMC Cloud with many new features to meet the higher demands of businesses and shorten the gap between us and international Cloud platforms in terms of scale and features.
In your opinion, which Cloud providers should Vietnamese businesses choose?
Cloud computing can be considered the "backbone" to deliver almost any digital service. However, there is no clear and definite choice of Cloud provider for businesses from the beginning. Each cloud provider has its own service development model and solutions, which are suitable for each type of application and system. Businesses can flexibly select both domestic and international Cloud providers, or a combined (hybrid) solution of them to solve each problem, thus reach to the market on a wider scale with faster deployment and expansion speed.
Mr. Luu Danh Anh Vu, Director of Solution Consulting Center of CMC Telecom shares his thought.
Whatever their choice is, CMC Telecom has in place a team specializing in consulting, deploying, operating and evaluating for each international and domestic Cloud provider, which works in accordance with a strict process to support and advise suitable solutions to businesses.