Ransomware is threatening SMEs and accounting software
Along with digital advancement is the rise of ransomware attacks. This type of crime aims at companies in all business fields and of all sizes, especially small and medium-sized enteprises.
According to copen.vn experts, many SMEs are now "having the stable locked after the horse is stolen", i.e. only investing crazily in cyber security after suffering from serious damages. Protecting small and medium-sized enteprises from the risk of losing thousands to millions of dollars here.
SMEs as the new prey
In the past, large businesses and big brands like Microsoft Exchange, Acer, Colonial Pipeline (USA), Vietnam Airlines, etc. were often in the crosshairs of cyber criminal groups. Today, however, cyber attacks tend to target small and medium-sized enteprises (SMEs). The reason is that most SMEs today operate on the Internet, but are quite indifferent about malware.
With the misconception that small businesses will not become the target of criminals in the cyberspace, SMEs often allocate fewer resources for cybersecurity due to limited budget.
Working with many SMEs, experts of copen.vn have detected many life-threatening vulnerabilities in their information systems; worse, they have only some employees in charge of repairing computers and install operating system instead of true cyber security technicians. Many even believe that ransomware is something so far away that has nothing to do with their business. Others think that a cyber attack will end if they discard the infected computers or buy new ones to replace them. Most SMEs do not back up data, including important data like contracts, accounting and tax documents, etc.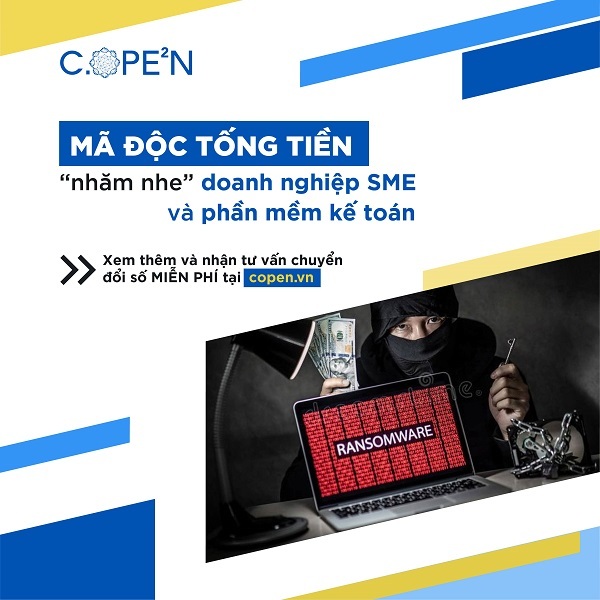 Ransomware is targeting accounting software
As enterprises are actively conducting digital transformation, the software for financial statements, accounting, tax report and e-invoice is becoming the new target of ransomware, with some prominent attacks. In mid-March 2022, a well-known accounting software issued a notice on its homepage about the possibility of malware infecting the server and asked customers to timely back up their data to prevent a widespread infection. Accordingly, the malware took advantage of the ports opened on routers of businesses that allow WFH (Work From Home) users to directly access the accounting software from afar.
With other accounting software, hackers' approach is a little different. They attack security patches in servers that install non-updated software, leading to the installation of malware in the system by masquerading itself as an update of the software. If the software users see the message and proceed to update, they will accidentally approve to install the malware, thus paralyze the system and spread the infection to other computers in the LAN. Whether hitting on open ports or vulnerabilities in the server that installs the software, the consequences of such attack are extremely serious. The target of hackers changes day by day, and important information like a business' accounting system is not out of the spotlight.
CMC CryptoSHIELD - Anti-malware solution in Vietnam
To prevent small and medium-sized enteprises from cyber attacks, CMC CryptoSHIELD is created as a Vietnamese anti-data encryption solution that helps SMEs protect data integrity as well as quickly and professionally supports troubleshooting.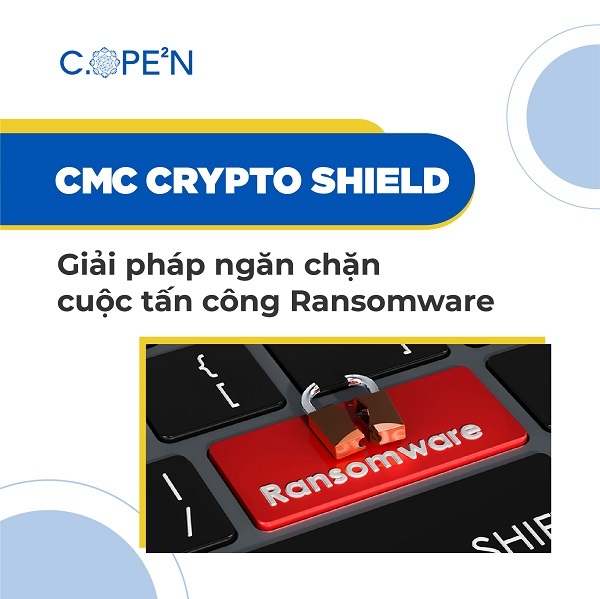 CMC CryptoSHIELD not only protects data and completely prevents the risk of intrusion and destruction of malware, but also provide behavior-based detection and prevention. Therefore, it can timely stop attacks of the latest ransomware that is previously unknown, which is different from the traditional detection method using signature techniques. Besides, CMC CryptoSHIELD also allows to back up computer data to different Cloud Storage platforms.
Along with a lot of outstanding features, the installation and redeployment of the solution is extremely simple. With one click, CMC CryptoSHIELD will become the silent defender of your computer while occuping the least resources (only about 5Mb of memory and less than 2% of CPU). CMC CryptoSHIELD can be deployed for computers with Windows 7 and up, and is suitable for protecting individual data as well as commonly used data servers of companies, or Cloud storage servers of service providers.