VNPT Money earns PCI-DSS certification
The digial finance ecosystem VNPT Money has just officially earned PCI DSS 3.2.1 Level 1 certification- the highest level of PCI DSS certification issued by CMC.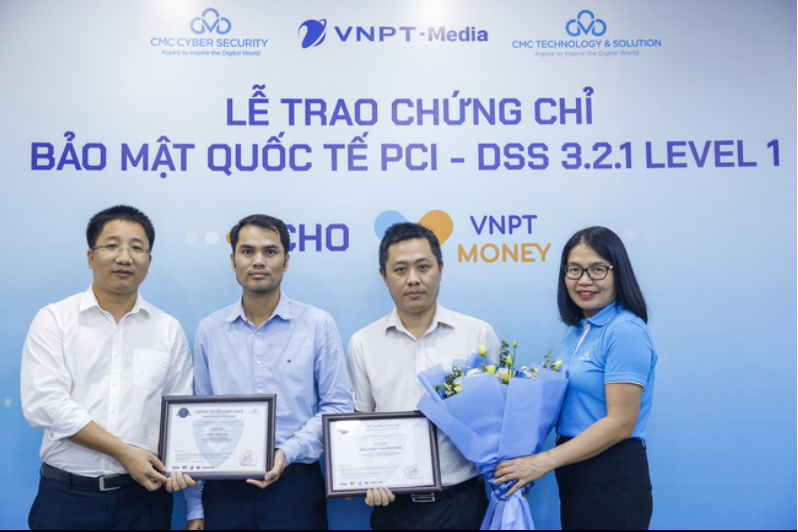 Reaching the highest level in this prestigious international security certification system is proof of VNPT Money's constant efforts to invest in upgrading its security system in order for its customers to have the safest experience when using its services.
PCI DSS (Payment Card Indutry Data Security Standard) is a security standard established by PCI Security Standards Council, consisting of the following members: Visa, MasterCard, American Express, Discover Financial Services, and JCB International. This is a globally recognized information security standard that is mandatory to all organizations and businesses involved in the processing, transmission and storage of payment card data. PCI DSS 3.2.1 Level 1 is the highest level, attesting the security of fintech institutions for customers when performing operations related to transactions using international payment cards.
With long-standing experience in advising on the implementation and evaluation of PCI DSS for major banks and payment intermediaries, CMC TS and CMC Cyber Security (under CMC Corporation) have consulted solutions to help VNPT Money (under Vietnam Post and Telecommunications Group) upgrade and comply with security conditions, thus complete PCI DSS Level 1 assessment in just one month.
VNPT Money has passed 12 strict evaluation criteria of PCI DSS , including: building and maintaining firewall to protect payment card data; regularly using and updating antivirus software; building and maintaining the system and applications to ensure cyber security, etc. In addition, VNPT Money also meets multi-factor authentication requirements and safety standards for data encryption of PCI DSS 3.2.1 Level 1.
Mr. Nguyen Dang Thang - Director of VNPT Digital Financial Services Center said: "With the upgrade to PCI DSS Level 1, VNPT Money expects to meet the highest and strictest security standards in order to provide safer and higher quality services to customers. This is also the premise for VNPT Money to expand and provide more products and services to the market."
Mr. Vu Lam Bang - Deputy CEO of CMC Cyber Security said: "CMC is proud to be selected by VNPT Media and VNPT Money as the PCI DSS 3.2.1 Level 1 assessment and certification provider. The achievement of PCI DSS certification at the highest level affirms that VNPT Money not only meets the strict requirements for security in storing, processing and transmitting data according to international standards, but also ensures the safety and security of the national payment infrastructure and at the same time expands opportunities to cooperate with international financial institutions."