Digital Infrastructure: The momentum for CMC Corporation's billion-dollar ambition
With the goal of becoming a billion-dollar corporation in 2025, CMC Corporation has made strong moves to restructure its strategy of becoming the No.1 Technology Group in Vietnam and the region.
Accordingly, CMC Corporation's Digital Infrastructure Department is born from the conversion of telecommunication infrastructure department consisting of CMC Telecom and Netnam, and focuses on broadband connectivity, data centers, cloud computing and information security. The addition of CMC Cyber Security will enable CMC's Digital Infrastructure Department to provide digital transformation services with modern and secure digital infrastructure according to the highest international standards to customers.

According to Mr. Dang Tung Son, DCEO/CMO of CMC Telecom, the combination of CMC Telecom and CMC Cyber Security is to catch up with the world's business trend following the model of "Telco doing Security". This is considered the model that brings the most benefits to customers, especially businesses that need infrastructure with strong connectivity as well as standard and absolutely secure data center (such as those in banking & finance sector), large corporation that are strongly rolling out digital transformation, and SMEs that need high-end cloud-based product and service ecosystems at optimal cost.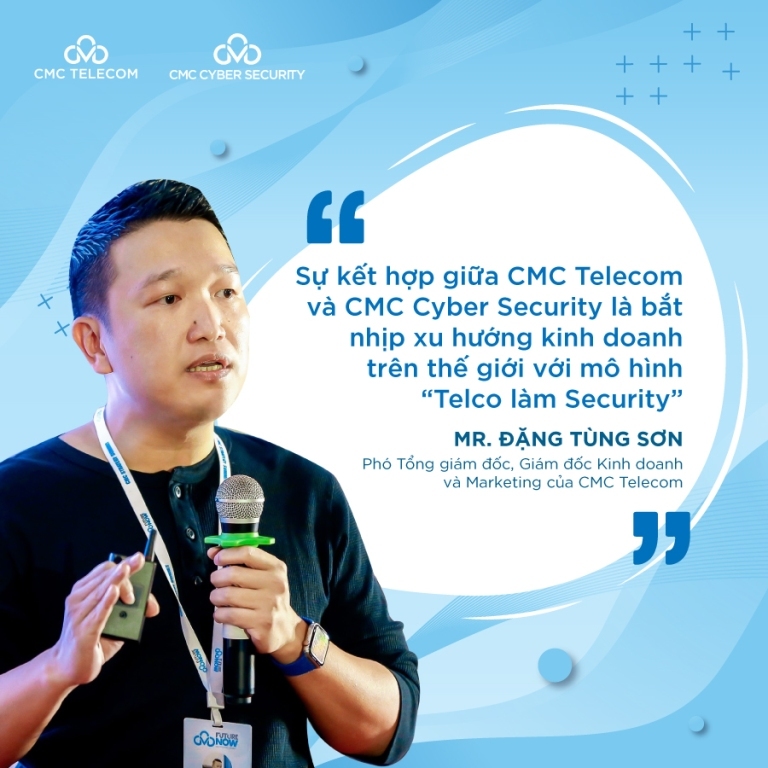 Mr. Dang Tung Son, DCEO/CMO of CMC Telecom
Talking to us, Mr. Ha The Phuong, CEO of CMC Cyber Security (CCS) said, with nearly 15 years of experience in security services, together with a team of internationally certified security experts, the Digital Infrastructure Department will deliver to customers safe and secure digital transformation products and services according to international standards as well as the most reliable information security technology.
Mr. Ha The Phuong - CEO of CMC Cyber Security.
Solid digital infrastructure with the most modern and secure Data Center in Vietnam
CMC Telecom's Tan Thuan Data Center (DC) is the most modern and secure data center in Vietnam and APAC region, which is built by CMC Corporation and officially put into operation in May 2022. Tan Thuan DC offers better connectivity and service to businesses, with a network of 1,200 high-capacity racks of 20kw/rack in an area of 10,000 m2. This data center is designed by B-Barcelona Singapore to comply with the strictest standards for a modern DC, such as PCI DSS, TVRA (Threat Vulnerability & Risk Assessments), ISO 27001:2013 / ISO 9001:2015, etc. Especially, Tan Thuan DC is the first and only DC in Vietnam to have the Uptime Tier III certification for both Design and Construction.
CMC Telecom's Tan Thuan Data Center is the most modern data center in Vietnam
As a neutral service provider, Tan Thuan DC has an internationally conntected infrastructure similar to a Digital HUB of the Asia-Pacific region. Tan Thuan DC's designed rack cabinet capacity is up to 20KW/Rack to meet the high demand of OTT and Cloud customers. CMC Telecom is also the first company in Vietnam to connect directly to cloud giants in the world such as AWS, Google and Azure.
Human - the nucleus of Digital Infrastructure
The strength of CMC's Digital Infrastructure Department comes not only from the solid infrastructure, but also the well-invested human resources of CMC Cyber Security. As the strategic member of CMC Corporation in the Information Security field with nearly 15 years of experience in the market, services provided by CMC Cyber Security are all of international standard.