CMC Corporation and SAMSUNG SDS sign agreement for strategic cooperation on deployment of intelligent factory management solutio
On 25 June 2018, the signing ceremony of strategic cooperation agreement between CMC Corporation and SAMSUNG SDS was held at CMC Tower, No.11 Duy Tan, Cau Giay, Hanoi. Accordingly, CMC will be in charge of deploying MES - an intelligent factory management solution of SAMSUNG SDS for factories in Vietnam.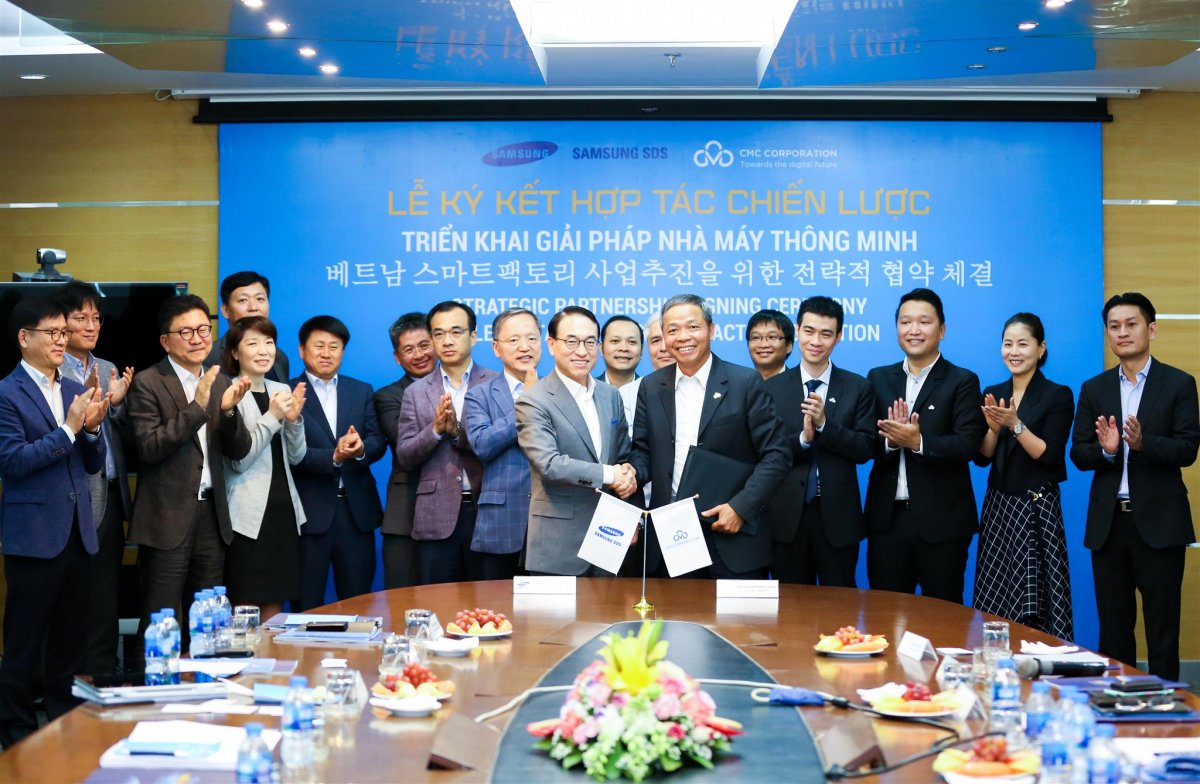 Representative of SAMSUNG SDS - Dr. Won-Pyo Hong, President/CEO of SAMSUNG SDS and representative of CMC - Mr. Nguyen Trung Chinh, Chairman/CEO.
SAMSUNG SDS is a member of SAMSUNG and focuses on information technology solutions for many different areas worldwide. SAMSUNG SDS' intelligent factory management solution - MES- has been applied in hundreds of manufacturing plants around the world. In order to create opportunity for Vietnamese enterprises to apply MES in production, SAMSUNG SDS decided to select CMC Software Solution Co., Ltd. (CMC Soft) - a member of CMC Corporation as strategic partner, who's going to be in charge of MES deployment in Vietnam. MES (Manufacturing Execution System) is a new solution which applies technology in optimizing management work at manufacturing enterprises, following the trend of Industry 4.0. With MES, production is no longer manual or being monitored by human. Instead, it is integrated in a comprehensive management system from hardware to software.
At the signing ceremony, Dr. Won-Pyo Hong, President/CEO of SAMSUNG SDS emphasized the reason for selecting CMC as partner for MES deployment: "CMC Corporation is one of Vietnam's leading IT enterprises in providing and deploying software solutions. CMC not only has a team of top engineers and IT experts, but also possesses infrastructure for deploying the solution on Cloud platform - one of the most cutting-edge technologies in the world today. I believe that CMC is the most logical choice of partner of SAMSUNG SDS for MES deployment in Vietnam".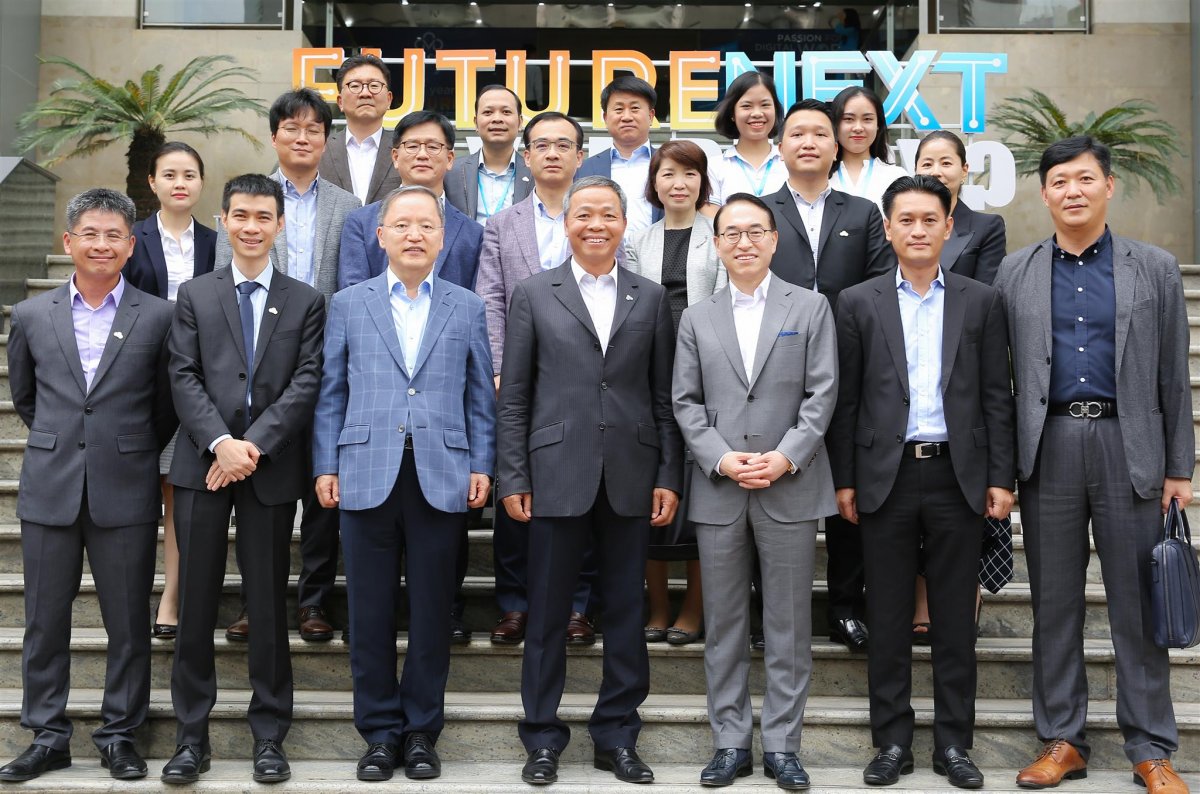 Representatives of both parties pose for a photo in front of CMC Tower.
The cooperation between both parties was marked by the successful deployment of MES at Jworld Vina Co., Ltd. in 2017. Following this, CMC and SAMSUNG SDS will continue to roll out MES for more than 200 providers of SAMSUNG in Vietnam. As an intelligent manufacturing execution system, MES brings a lot of benefits to enterprises. First, it helps enterprises to assess the use of a particular equipment in their production apparatus, thus they are able to re-balance the use of equipment for best efficiency. Second, MES allows managers to measure the use of equipment in order to increase or decrease exploitation intensity of such equipment. Third, MES helps better data recording and storage. By using MES, enterprises can minimize time and cost for management and paperwork; in addition, other issues such as inventories, data loss, increase of operational costs, high capital costs or low product quality can all be remedied by MES.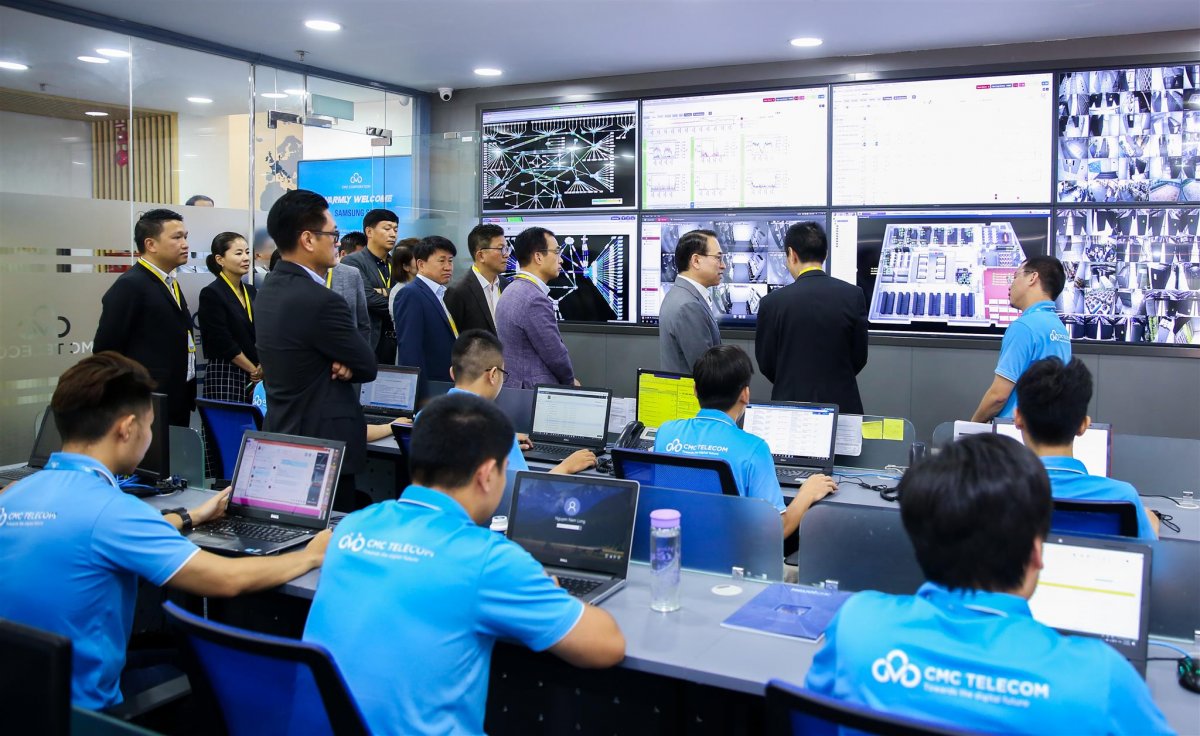 The delegation from SAMSUNG SDS visits CMC Telecom's Data Center after the signing ceremony.
Mr. Nguyen Trung Chinh, Chairman/CEO of CMC Corporation expressed his belief in the success of the cooperation: "I believe that the cooperation between CMC Corporation and SAMSUNG SDS will bring about a good opportunity for both parties: CMC has a good solution for customers in Vietnamese market, which is not limited to customers of SAMSUNG SDS but can be expanded to a network of manufacturing plants and factories; on the other hand, SAMSUNG SDS also get a trusted partner for the transfer and deployment of their solution in Vietnam. At the signing ceremony, both parties have made undertakings for the project's goal, and I believe that CMC will fulfill the mission of supporting manufacturing enterprises to successfully apply MES in order to catch up with Industry 4.0 and meet world standards to become modern enterprises."
Content: Ngoc Dang
Photos: Le Hoang