A digital management solution for small and medium-sized enterprises
C-Suite is a set of applications to support the management of small and medium-sized enterprises, which are developed on the cloud computing platform (Saas).
"Constantly listening to the "pains" of small and medium-sized enterprises to develop a set of solutions in order to digitalize the management process, reduce labor and cut costs is the mission of C-Suite", said Mr. Vu Manh Thuong - Head of CSC Project Management Team - CMC TSSG about the Made by CMC product.
C-Suite is developed from the CMIS solution, which was created and used internally at CMC TSSG about a decade ago and has been applied at CMC TS since the start of 2022. Inheriting from CMIS, C-Suite however has a different "vision", which is aimed at small and medium-sized enterprises.
C-Suite is a set of applications to support the administration of small and medium-sized enterprises, which is developed on the cloud computing platform (Saas). It supports the need for digitalization and optimization of business operation process. The solution consists of 4 parts: C-Work; C-Work+, C-Sale, C-HRM.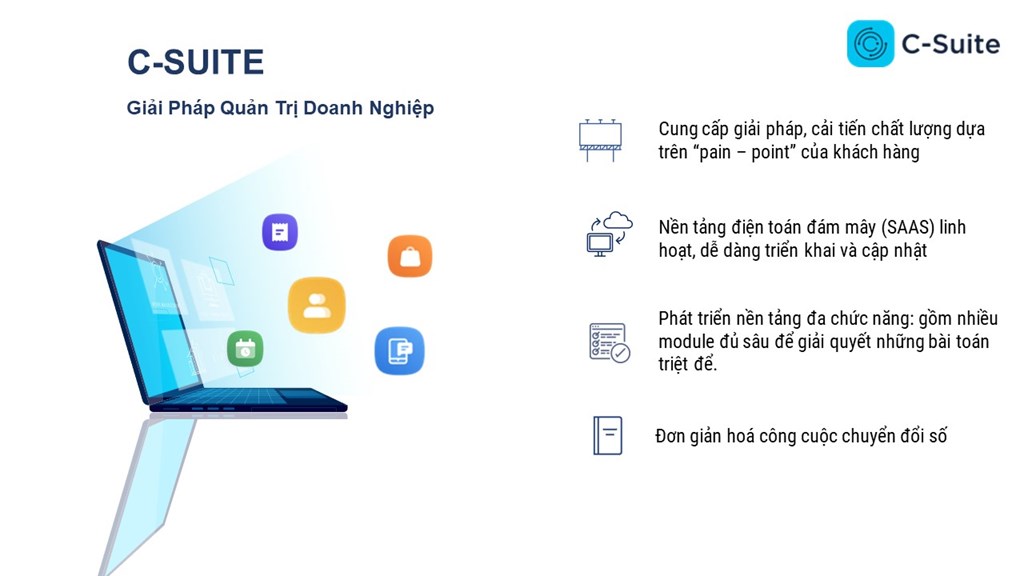 Unlike individual software, C-Suite applications are designed specifically for each task but are able to exchange data with each other on a shared platform; among which, C-Work is the module first developed by CSC Team - Saas Product Development Department - CMC TSSG.
The solution helps digitalize the management of work, documents, processes, proposals, timekeeping, leave and meeting schedule on one platform. Traditional businesses or those that need to comprehensively digitalize their management work will need a solution like C-Suite.
"We simplify and normalize the works done in traditional way by using modern technologies, thus making business management more convenient and efficient; in particular, cloud computing technology is used to retrieve and manage documents anywhere", said Mr. Vu Manh Thuong.
Tasks are handled quickly and smoothly in order to save time and improve accuracy. In addition, the system also has a reminder tool to prevent errors and failure of notice of work, as well as to help with the management and decision-making process through proactive reports.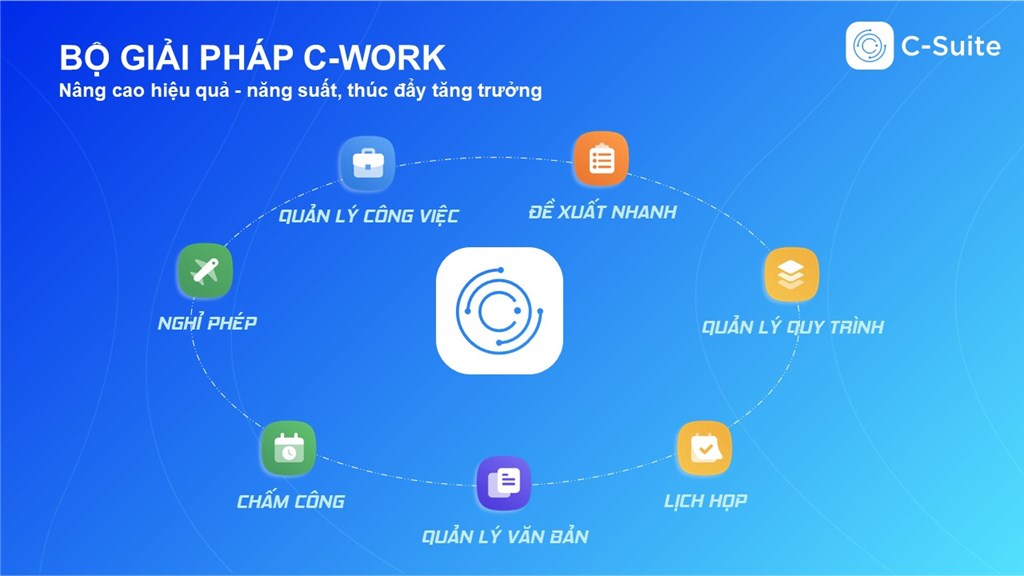 In order to improve the quality of C-Work, CSC Team added C-Works+ with professional office administration features, combining solutions of C-Work, C-Sign (digital signature) and C-Contract (digital contract).
Not only that, CSC Team also accelerated the completion of C-Sale solution. C-Sale is developed by CSC based on the need to professionalize and digitalize business processes and improve business efficiency in the context of the rapidly growing digital economy.
C-Sale helps to manage all stages, from quoting and receiving purchase orders to managing customers, using chats and video calls to exchange product information easily.
For C-Suite to become a comprehensive set of applications to support business management, in 2022, C-HRM solution (for human resource management) will continue to be developed and integrated into the system.
C-Suite provides supports across multiple platforms, is 30% to 50% cheaper than the similar solution of 1Office & Fast, and costs only a third to a half of the price for similar solution of Base (for enterprises with no more than 60 employees).
Mr. Vu Manh Thuong recalls that, about ten years ago, CMC TSSG entered a period of rapid transformation with a huge workload. The company was contemplating the creation of a solution for office management and internal process digitalization. With that in mind, CMIS was created and has been developed and improved over the years.
In the recent 3 years, when every business desires digital transformation to save time and cut costs, leaders of CMC TSSG proposed to turn CMIS into a commercial product. Mr. Pham Trung Nguyen - Director of the project and his colleagues embarked on turning CMIS from an internally-used solution to a customer-oriented one.
In early 2022, Mr. Vu Manh Thuong took over this challenging project. Mr. Thuong and his colleagues realized that, in the current special context, enterprises, especially the small and medium-sized ones desperately need digital transformation and supporting solutions like C-Suite.
Since then, the product development team is determined to understand the difficulties of SMEs in order to research and develop plans and products that can meet their needs.
"In the early stages, we encountered a lot of difficulties, such as lack of personnel since we have to carry out many projects at the same time. We also have to rethink and rebuild the product entirely, because CMIS was originally aimed at big corporates and customized according to the needs of CMC TS and TSSG. Meanwhile, in order to launch it to the market in general, C-Suite must meet the needs of millions of SMEs", said Mr. Thuong.
With the desire to serve customers, CSC team approached the sales staff of SMEs to thoroughly learn about their needs. Instead of developing C-Suite into an already completed solution, the team decided to complete each of its modules and launch the trial version of C-Work to the market in mid-2022.
According to Mr. Thuong, this is the best way for the product to reach customers and be tested fairly. Customers will be the best testers to give feedback to C-Suite.
The COVID-19 pandemic has pushed businesses to change the way they operate and to shape a new work culture and interaction, thus promote the formation of a great environment for digital operations. This is also the opportunity for C-Suite to step into the light and enrich its customer base.