CMC Telecom becomes Well-Architected Partner for digital transformation of AWS
In May 2022, AWS has announced CMC Telecom as its Well-Architected Partner in Vietnam. Accordingly, CMC Telecom is accredited as having 100% compliance with AWS guidelines
AWS Well-Architected Partner - Certification of AWS for optimal architecture experts
Based on the strict standards of AWS, Well-Architected Partner refers to those with an in-depth understanding of Cloud AWS and the capability to establish the architecture, roadmap and deployment of customers' applications to the Cloud with the highest performance. The standards for AWS to select its "architects" are based on 6 pillars of performance.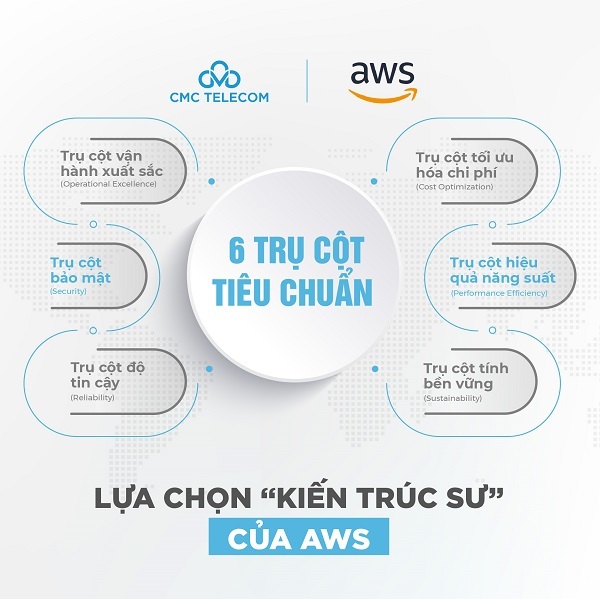 CMC Telecom has become a "well-architected partner" of AWS thanks to its hand-on experience in digital transformation for different sectors in Vietnam, such as Finance, Technology Services, Manufacturing, Retail, Logistics, Education, etc. In addition, CMC Telecom possesses a distinct advantage with 03 Data Centers which are the most modern in Vietnam, along with a telecommunication cable system that directly connects to AWS's Data Centers in Singapore and Hongkong.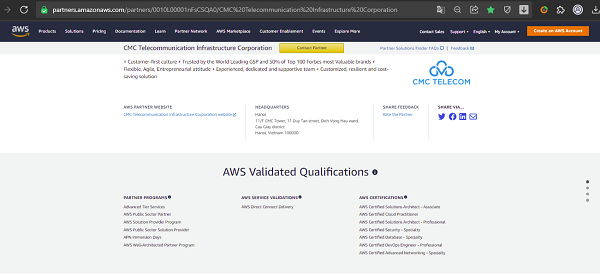 Enterprises can be assured to trust the "chief architect" CMC Telecom with their digital transformation
"Go DX - Cloud First" - "going Cloud" is the prerequisite for digital transformation, and seasoned "chief architects" must be trusted with this critical task. As a Well-Architected Partner of AWS in Vietnam, CMC Telecom rigorously applies an evaluation process for customer applications to find problems relating to architecture and operation of the application. Thereby, it proposes improvements for workloads to be optimized in terms of security, reliability, performance, cost and operation.
The Well-Architected Review is a 3R process: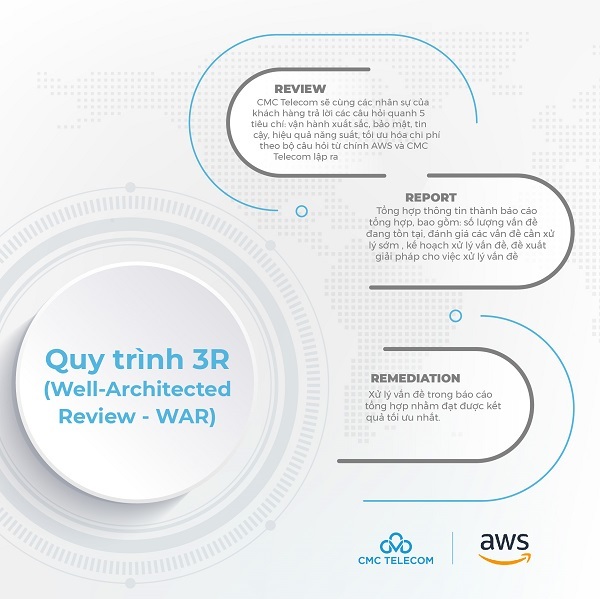 More trust - more responsibility
With its new role as an AWS Well-Architected Partner, along with years of experience in deploying AWS services for large enterprises in Vietnam, CMC Telecom will build a process to optimize the "specific" architecture of each business with many benefits:
Cost-saving with the best incentives for AWS products and services. With an in-depth understanding of AWS services, CMC Telecom will help businesses maximize their investments and provide optimal service configuration to minimize the total cost.
Working with a team of high-tech experts: CMC Telecom has a team of technically certified personnel for AWS solutions that ensures to have the necessary expertise and in-depth knowledge of the latest AWS product features.
Time-saving: Cooperating with an AWS Well-Architected Partner not only helps businesses and organizations gain the commitment for companionship from AWS and CMC Telecom throughout the evaluation process, but also receive in-depth advice from leading AWS service experts. Each business and organization will have their specific architecture established to save operating time, monitor and optimize performance.
Safety and Security: CMC Telecom's on-call monitoring center helps customers convert IT systems to AWS cloud technology platform with high security and consistent processing speed.
Contact CMC Telecom's experts now to receive advice and incentives: https://aws.cmctelecom.vn/