Artificial Intelligence and Smart Business Applications in the digital future
On 26/10/2018 in Ha Long, Quang Ninh - Tech Vision Conference 2018 with the theme of: "Unleash Intelligent Business" was held by CMC Corporation. Through 3 topics: "Modernizing Workplace & Optimizing Infrastructure", "Autonomous Infrastructure & Security" and "Smart Business Applications", the conference, led by leading technology experts of CMC created a very elated atmosphere for all participants.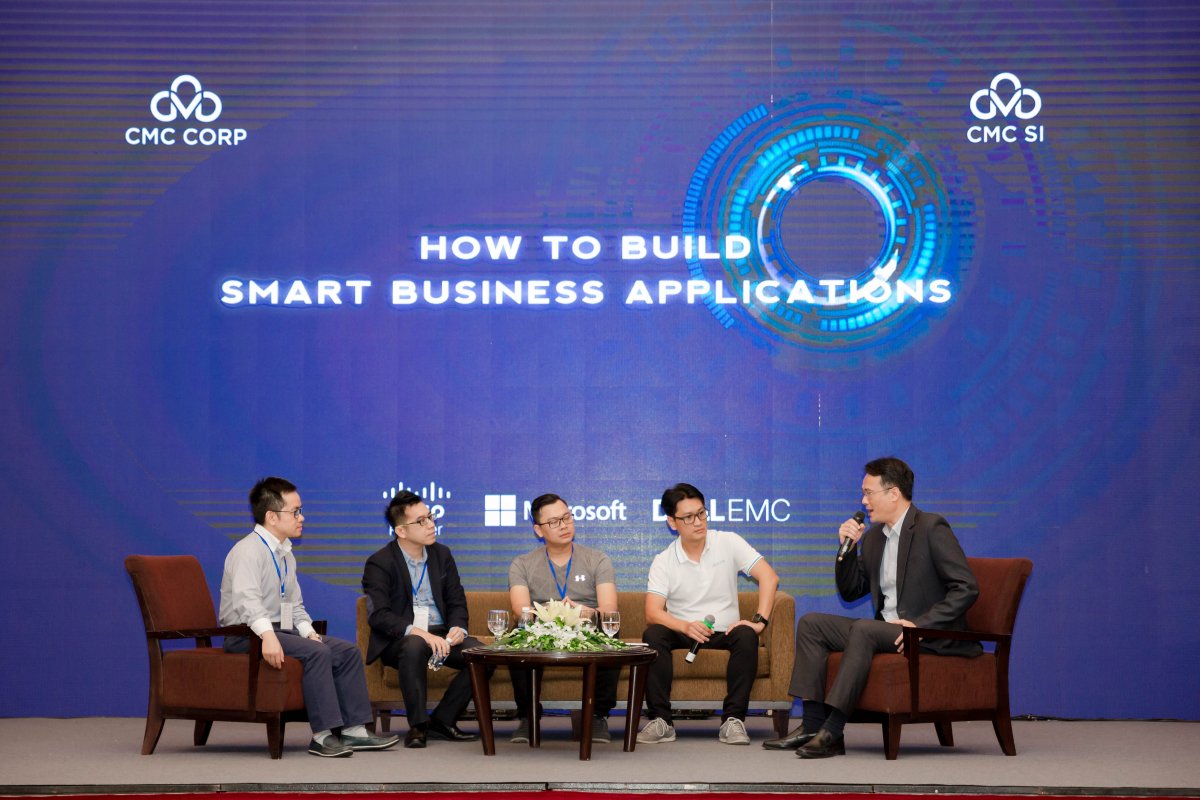 Tech Vision 2018 Conference of CMC on 26/10/2018.
For the first time, guests from banking, finance and business sectors not only are able to listen to perspectives of new technology trends from CMC, technology partners and consumers, which can open up smart business platforms, but also can participate in discussions to express their views and request experts from multiple fields to give answers to challenges in the process of digital transformation.
In the main presentation of the conference, Mr. Luong Tuan Thanh (Technology Manager of CMC SI) presented an overview of technology development trends in the world, in which mobile platforms, Internet of things and cloud applications will account for 90% of mobile data traffic by 2019. Globally, the number of connected devices will increase from 2.5 billion in 2009 to 30 billion in 2020. The connection of people in the world to everything around hasn't been as deep as it is anywhere and anytime now. The trend of modernizing work places, integrating lots of solutions to interact with devices in order to maximally serve business demands and optimize resources could very likely become inevitable in the future. All of these create an overall profound impact which can change the basis of human life.
At the forum, prestigious technology experts from CMC Corporation, Microsoft and Dell EMC all determined that Industry 4.0 will lead to breakthroughs in production. In Vietnam, leading technology enterprises have been and are fiercely participating in this "transformation", especially when cloud computing platforms, AI, Blockchain and Machine Learning are viewed by experts as those which will have great impact on digital transformation. With more than ten years of experience in the field of information technology for banking and finance industry, the representative of Techcombank - one of the forefront commercial banks in Vietnam - said that with the current trend, many enterprises in the banking sector will focus on building technology foundation to come up with applications for customers' experience. Meanwhile, demands for technology in terms of transactions, risk management, financial portfolio management and individual financial solutions for customers will become a priority which requires truly advanced technology.
Smart applications and the use of AI in banking and finance industry is a "hot" topic, not only in Vietnam but also around the world. This topic also attracts a lot of interesting questions from the guests. In Vietnam, artificial intelligence has wormed its way into business life and had its impact on many working methods, such as those for anti-money laundering and forecasting banking risks. A representative from a financial investment firm said that, AI not only increases customer experience, but also engages in the process of screening customers, selecting channels with business value based on characteristics of marital status, family, etc. and is even involved in forecasting irregularities and inconsistencies in both banking and finance sectors, giving warning of "dangerous" limit when customers starts to "hit" losses in investments and internal audit. These are important new points which forecast big changes in the field of banking and finance.
Participating in the conference, CMC's partners have shared a lot of experience regarding products when building AI. For example: Microsoft launched pre-packaged AI products which can be used immediately; with capabilities gradually increased to each new level: In 2016: able to identify objects such as people; 2017: recognizing speech as good as human; 2018: intelligent, human-like robots which can interpret emotions and communicate naturally with people.
"Digital data platforms, including structured and non-structured ones are needed in order to create or develop new services and new products," Mr. Ho Thanh Tung - Deputy CEO/ Strategy Manager of CMC Corporation confirms. According to Mr. Luong Tuan Thanh, in order to catch up with that trend: "CMC Corporation is gathering good engineers specializing in Big Data - they will, on one hand, carry out in-depth research on algorithms and, on the other hand, solve the problem in each specific field, such as FinTech, Insutech or Digital Banking. Along with it are changes in thinking methods and processes to increase the pressure on creativity and speed, which CMC believes will lead to smart applications to assist enterprises in the process of digital transformation."
Information on TECH VISION:
TECH VISION 2018 is an important technology event, which is held for the first time by leading technology experts of CMC Corporation in cooperation with major partners and guests from fields of finance, banking, investment, insurance and business. The world is facing with lots of big changes, especially in the digital era, when artificial intelligence and Internet of things can connect devices all over the world, and the use of new data can lead to the transformation to smart business platforms and products. Tech Vision 2018 Conference with the theme of: "Unleash Intelligent Business" held in Ha Long, Quang Ninh on 26-27/10/2018 presented key issues when heading to the era of digital transformation and how to optimize resources in order to enhance competitiveness of the global business.
Media Contact: Mr. Nguyen Thanh Luu, Chief of Marketing & Communications Department, CMC Corporation Handphone:+84922353535; Email: ntluu@cmc.com.vn.