Strategic and comprehensive partnership between CMC and SAMSUNG SDS
Samsung SDS- a member company of SAMSUNG Group (South Korea) specializing in providing IT and logistics solutions to SAMSUNG and global clients and partners, is currently the No.1 IT company of South Korea. Last June, SAMSUNG SDS had just signed a strategic partnership agreement with CMC Corporation, under which CMC will be in charge of deploying MES - SAMSUNG SDS' solution for factory management and operation for clients in Vietnam and in the region.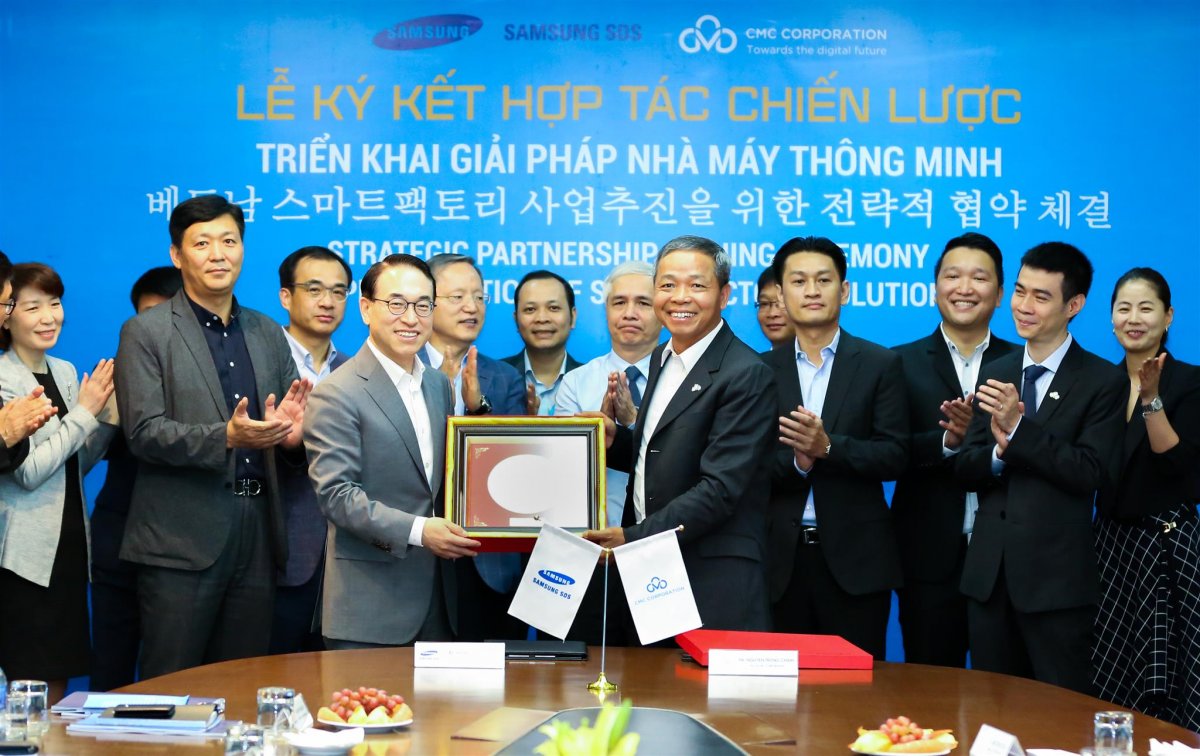 CMC Corporation signs strategic partnership agreement with SAMSUNG SDS in June 2018
On 23-25/10/2018, the senior delegation of CMC, led by Mr. Nguyen Trung Chinh (Chairman of Board of Directors/CEO of CMC Corporation) along with representatives of the leadership of the corporations and member companies had visited SAMSUNG SDS headquarters in South Korea and had in-depth working sessions in 9 leading technologies and services, such as cloud computing service, smart factory, etc.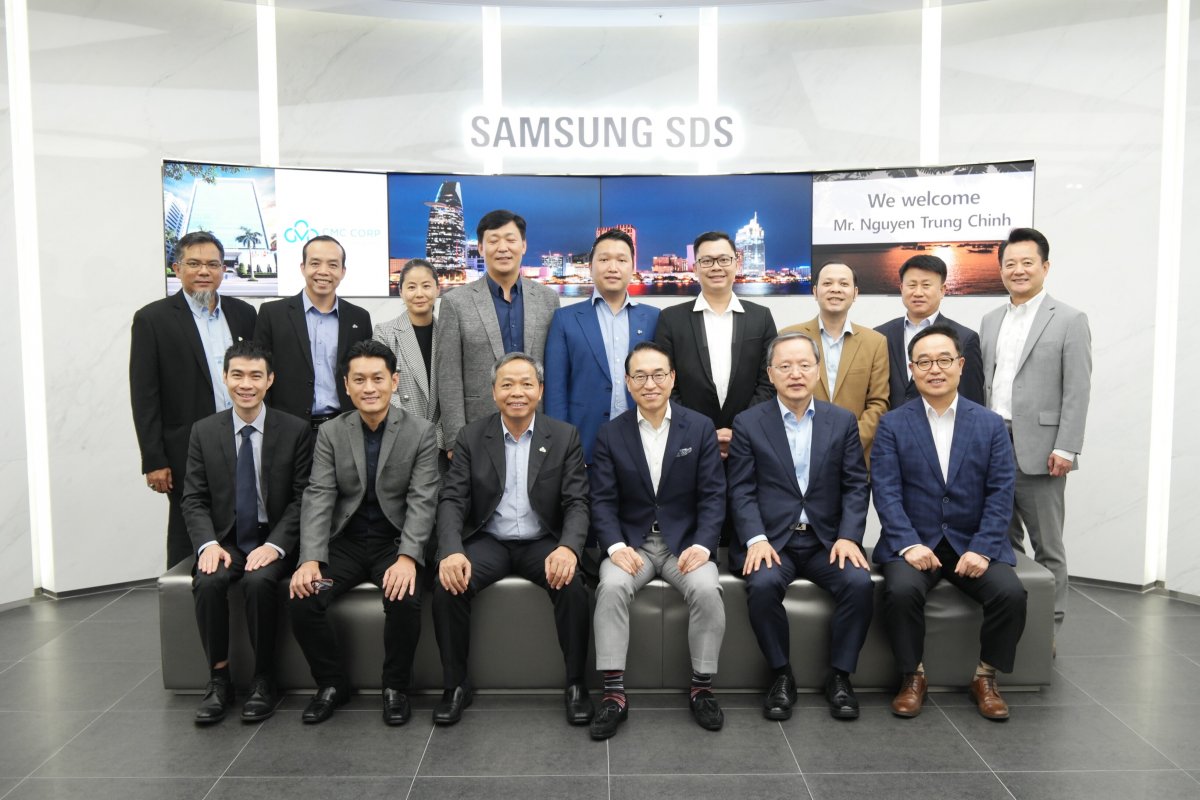 According to results of such meetings, CMC Corporation and SAMSUNG SDS will boost the deployment of MES for 200 clients of SAMSUNG in Vietnam, in particular 40 clients from now to the end of 2018; at the same time, prepare for a plan to expand business cooperation in the South East Asia. MES (Manufacturing Execution System) is a general manufacturing management system focusing on controlling and monitoring in real time, managing work history and goods circulation, catching up with the situation, managing defected goods, etc. MES helps small and medium manufacturing enterprises to solve the problem of product costs, minimize errors in manual control, thus not only improve production process but also lead to optimal decision for management and operation.
In addition to the project in the field of software, SAMSUNG SDS also offers partnership with CMC in the fields of telecommunications and system integration. Currently, CMC Telecom is the only partner to provide the entire international telecommunication channel for SAMSUNG Group in Vietnam thanks to quality service, fast processing speed and capacity of the system to ensure comprehensive back-up. In the future, SAMSUNG SDS expects to closely cooperate with CMC Corporation in boosting the construction of Smart City and Smart Building solutions as well as IoT and Cloud AI applications in Vietnamese market. In the context of large municipalities are developing very quickly and the Government of Vietnam is also encouraging the application of IoT (Internet of Things) and 4.0 solutions to construct smart buildings and smart cities, SAMSUNG SDS considers Vietnam as a very potential market regarding this field and CMC is the top partner for development cooperation.
During the visit and work of CMC delegation, SAMSUNG has offered the strategic and comprehensive partnership in two very potential business fields: SAMSUNG SDS (revenue of 8.2 billion USD in 2017) and Data Center & Cloud telecommunication services - a quickly growing field with revenue of 2.2 billion USD. CMC's visit to the headquarters of SAMSUNG SDS in South Korea this time has affirmed the strategic partnership between SAMSUNG Group and CMC Corporation, including the cooperation between all member companies in developing market in Vietnam and expanding it within the South East Asia. Dr. Won-Pyo Hong, President/CEO of SAMSUNG SDS place his faith in CMC: "The mission of Samsung SDS is to help clients to have creative solutions for their manufacturing operations and business. We also see opportunities to deploy and provide IT solutions and applications of Samsung SDS in Vietnamese market. In order to achieve that, we have to have strategic partners to jointly deploy in markets like Vietnam. Those partners must both have strong human resources and be able to ensure their capabilities in the field of technology. CMC is our best choice, because it is currently the leading ICT enterprise in Vietnam, which can both ensure human resources of good quality and have infrastructure ready for cloud computing solutions". Mr. Nguyen Trung Chinh (Chairman/CEO of CMC) also said: " CMC Corporation's goals are 5000 employees in the staff and 500 million USD in revenue by 2020, which are twice as much of the current indexes. However, we have clearly determined our objective and road map, which is providing world-class IT and telecommunications products and services in Vietnam and globally. By steadfastly following this path right from the start, CMC has been chosen by the world's leading corporations as their partner: AT&T, Oracle, SAP, Microsoft and most recently, Samsung SDS. SAMSUNG is one of the top partners in the world, so I believe that the strategic partnership between both parties will be very successful and will open up a new future with further success for both of us. "
Interview with representatives of the two companies about the strategic partnership between CMC and SAMSUNG SDS: https://drive.google.com/file/d/1WSnA6Fyd-Gkav0NaigVhuozojFcMSJga/view
Information on CMC Corporation:
CMC is the second largest ICT corporation in Vietnam with more than 25 years of establishment and development. With 12 member companies, joint ventures and research institutes, CMC has affirmed its position in the market of Vietnam and many countries in the world through its core business activities in four areas: System Integration, Telecommunications - Internet, Software Services and Manufacturing, assembly, distribution of ICT products. In Vietnam, CMC is known as a reputable and reliable partners for medium and major ICT projects in the areas of: Government, Education, Taxation, Treasury, Customs, Insurance, Electricity, Banking, Finance and Business. In fiscal year 2017, total consolidated revenue of the Corporation is 250 million USD with pre-tax profit of nearly 12 million USD. The Corporation's goal by 2020 is a revenue of 500 million USD.
Information on Samsung SDS:
Samsung SDS was founded in 1985 to provide IT solutions to Samsung Group and is currently South Korea's No. 1 IT company. Samsung SDS leverages advanced technologies such as AI, Blockchain to provide a variety of solutions to its clients, including financial services, smart manufacturing, transportation and retail services worldwide. Samsung SDS currently has 74 branches in 43 countries around the world with total staff of 22,871 people and 8.2 billion USD of global sales in 2017.
Media Contact: Mr. Nguyen Thanh Luu, Chief of Marketing & Communications Department, CMC Corporation Handphone:+84922353535; Email: ntluu@cmc.com.vn.