CMC Global reaches over 1,300 bn. VND in revenue after 5 years of establishment
After 5 years of establishment, CMC Global – a member company of CMC Corporation has generated over 1,300 bn. VND of revenue in 2021, with more than 2,000 employees as well as 250 partners and customers being top enterprises in the world.
Representing CMC Global, Mr. Dang Ngoc Bao - General Director said: "Established in 2017, at first, CMC Global had only 50 employees and specialized in software outsourcing for major partners in the world. By 2019, the company has 350 employees. After 5 years, we now have more than 2,000 employees, becomes a leading Information Technology (IT) company in Vietnam and generates more than 1,300 billion VND in revenue. The company is proud to have worked with more than 250 business partners and customers around the world, and have become a long-term and reliable IT solution provider."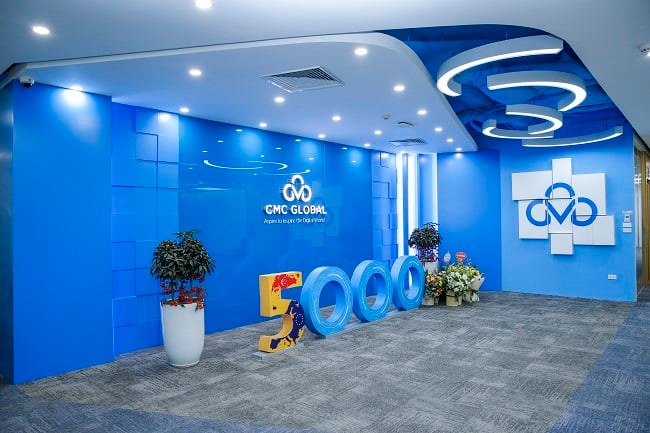 Office of CMC Global – a member company of CMC Corporation in Hanoi.
In 2021, CMC Global left its mark with an increase of 185% in revenue compared to the same period in 2020. The company currently has 10 offices worldwide. In Japan, it has already established the second representative office in Osaka. In Singapore, CMC APAC was established in mid-2021 to bring the best products and services to customers in the market.
In South Korea, CMC closely cooperates with one of the leading technology firms to applies new technologies such as: AI, Big Data, IoT, etc. to meet the needs of customers.
CMC Global also has good business performance in English-speaking markets thanks to its quick adaptation to market fluctuations in the face of the pandemic. In recent years, technology development and the efforts for commercial cooperation between European countries have contributed a lot to helping Vietnamese enterprises like CMC Global to be more confident and strong when conducting business.
In addition, CMC Global has also become a leading AWS consulting partner. This is a milestone that marks CMC Global's efforts in developing Cloud solutions to serve the needs of customers around the globe, especially in an era where cloud computing is the leading technology trend. CMC Global provides customers with end-to-end cloud services, including: Cloud Consulting, Cloud Migration, Cloud Managed and Cloud Security.
On the 5th anniversary of CMC Global, Mr. Nguyen Trung Chinh - Chairman of Board of Directors, Executive President of the Corporation and President of CMC Global said: "Go Global has been the strategic direction of CMC for many years. After half a decade, CMC Global has been very successful, not only in doubling its revenue, but also in taking a leap forward in terms of management capacity. In the coming time, CMC Global will definitely continue to grow strongly and contribute greatly to the strategic objectives of the whole Corporation."
After 5 years of establishment, CMC Global has had for itself 2,000 employees, as well as 250 partners and customers being top enterprises in the world.
By 2025, CMC Global aims to have 7,500 IT talents, take business global, generate 300 million USD in revenue (50% of which come from digital transformation services) and become a leading digital service provider in APAC to consult and deploy ERP.
The development of CMC Global has contributed to the overall picture of CMC Corporation and its strategy of becoming a global, world-class enterprise with billion-dollar revenue and more than 10,000 employees by 2025. CMC is consistent to its goal of being the leading digital transformation service provider in Vietnam to help domestic enterprises and organizations successfully achieve digital transformation, thus contribute to shaping the new cloud computing (Cloud) and SaaS (service software) market and being at the top of the cyber security market.