CMC TS reports revenue growth rate of 20% in 2021
In fiscal year 2021, compared to the year plan, CMC TS saw its revenue and profit soar up to 103% and 100%, respectively. This represents a growth rate of 20% compared to 2020.
CMC TS (a member company of CMC Corporation) was established on 11 April 2019 on the basis of consolidating three business segments: System Integration, Software Solutions and Information Security. The company has accompanied hundreds of leading corporations and organizations in various fields, such as the Government, Production, Banking & Finance, Tourism, Retail, Health, Real Estates, etc. in their digital transformation. Typical projects include: Consulting digital transformation for Hoa Phat Group; Deploying Microsoft 365 for major banks such as Techcombank and ABBank; Deploying digital transformation at factories of Polyco Group; Deploying GIS land information system for a Southern province; Deploying the largest Azure project in Vietnam for a multi-industry corporation, etc.
In Vietnam, CMC TS is also a senior partner of more than 150 big technology firms around the world, including Microsoft, Dell Technologies, Oracle, HPE, IBM, Cisco, etc.
CMC TS is honored by domestic and international organizations in the top 10 Microsoft Solution Providers in Asia-Pacific in 2021 (CIO Outlook), top 10 Cloud Computing Consulting and Service Providers in Asia-Pacific in 2019 (CIO Advisor), 2021 Vietnam Data Center Services Competitive Strategy Leadership Award (Frost & Sullivan). C-Contract, a solution researched and developed by CMC TS, is the only electronic contract solution honored by Ministry of Information and Communication in the 2021 Top 10 Outstanding Make in Vietnam Digital Solutions.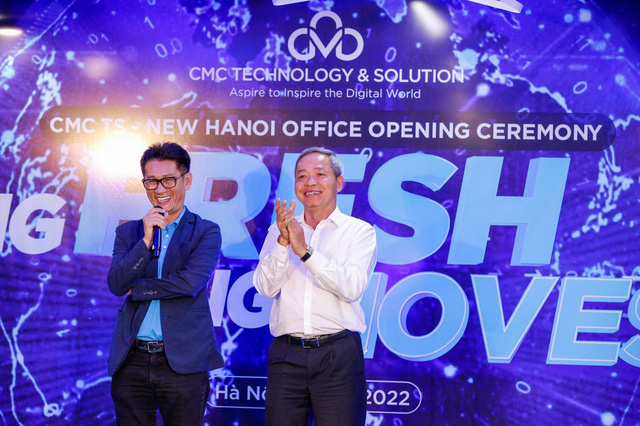 Mr. Nguyen Trung Chinh - Chairman of Board of Directors, Executive President of CMC Corporation and Mr. Ho Thanh Tung – General Director of CMC Corporation/CMC TS
Mr. Nguyen Trung Chinh – Chairman of Board of Directors, Executive President of CMC Corporation said: "Witnessing the change of CMC TS after three years of consolidation, I am truly impressed by its business performance in 2021, especially in the context of the pandemic. CMC TS has always been identified as a pillar of CMC Corporation. I wish CMC TS to always keep its entrepreneurship spirit fresh to achieve the strategic goals of both the company and the Corporation.
CMC TS aims to reach 10,000 bn. VND in revenue and have 3,000 employees by 2025. The company focuses on providing solutions in 7 fields (7 big moves), namely: Digital Transformation, Cloud Computing, Security, Smart City, Smart Manufacturing, Digital Banking and Finance, and Made by CMC Solutions.
The new office of CMC TS in Hanoi is designed in an open style to create conditions for employees to easily connect and collaborate.
Also in the 3rd anniversary, CMC TS establishes a new office occupying two floors with a total area of over 2,000 m2 along with modern, open-style facilities. The office creates the best conditions for divisions and employees to easily connect and collaborate in order to adapt to the work model in the new normal. The heart of this office is the main lobby area, where activities to promote connection and creativity of CMC TS take place. Mr. Pham Ngoc Bac – Deputy General Director of CMC TS said: "CMC TS wants to create a different experience for employees, thereby develop our corporate culture as well as attract and retain talents. The company's management wants each employee to have comfort, fun and creativity when going to work, from which each person will grow close to the company and make contributions in long-term to its development."
The new office of CMC TS applies Made by CMC technology solutions, such as smart face recognition using AI for monitoring access and body temperature. This system is also integrated to the company's personnel management and timekeeping system.
Previously, in March 2022, CMC TS established a new office within CMC Creative Space in Tan Thuan Hi-Tech Park, District 7, Ho Chi Minh City. CMC Creative Space has a total area of 13,133 m2, including one data center building at the center and two office buildings on both sides, along with auxiliary works such as cafeteria, sport court, outdoor bistro, etc., CMC Creative Space is going to become an ideal creative office which provides lots of space for CMC staff to work and research.
CMC TS currently has nearly 900 employees in Hanoi and Ho Chi Minh City. Ho Chi Minh City. The company aims to have 3,000 employees by 2025.