CMC Sai Gon launches authorization service for network security monitoring
On 29 July 2020, at Sofitel Plaza Saigon, CMC Sai Gon Technology and Solution Co., Ltd. (CMC TSSG) officially launched the Authorization Service for Network Security Monitoring.
The service will provide resources for monitoring, detection, isolation and troubleshooting, as well as facilitates the 24/7 responsibility for the safety of an enterprise's entire information system. This is the second Security Operations Center (SOC) of CMC Corporation.
The launching ceremony was attended by representatives of departments and sectors such as: Southern branch of Vietnam Information Security Association (VNISA), Ho Chi Minh City Association for Information Processing, Ho Chi Minh City Stock Exchange, IT directors and managers from many banking and financial institutions as well as enterprises in various fields. On the part of CMC, its representatives at the event included Mr. Ho Thanh Tung - Deputy CEO of CMC Corporation/General Director of CMC TS; Mr. Dang The Tai - General Director of CMC TSSG; Mr. Le Thanh Son - CFO of CMC Corporation/CMC TSSG; Mr. Ha The Phuong - Deputy General Director of CMC Cyber Security; and Mr. Pham Van Trung - COO of CMC TSSG.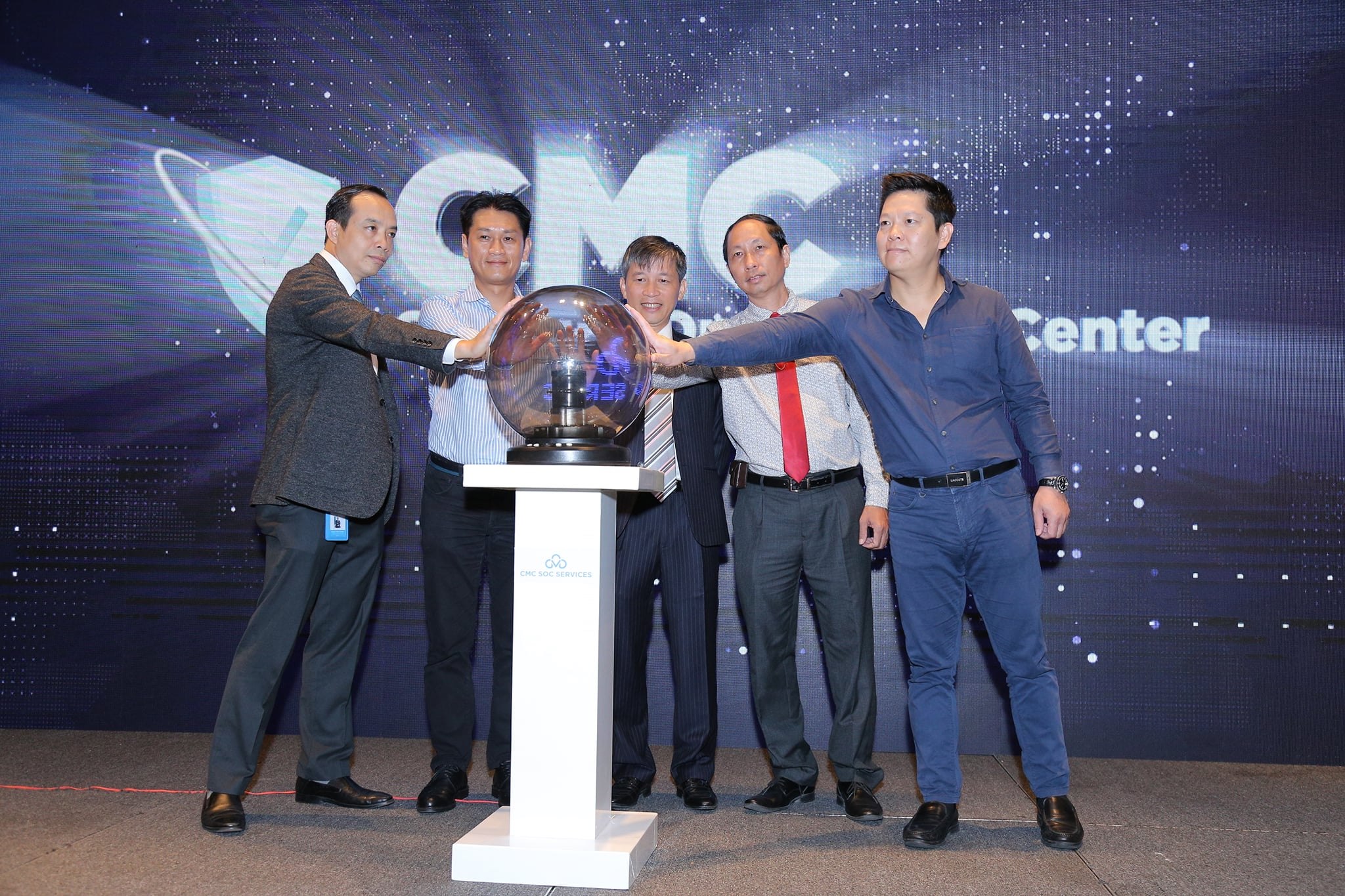 CMC Sai Gon launches authorization service for network security monitoring
At the ceremony, Mr. Pham Van Trung - COO of CMC TSSG and Director of SOC project said: "In the context of increasingly large-scale and complex cyber attacks, enterprises and banking and financial institutions have to invest a lot of time in monitoring systems and the personnel to operate them. To support our clients in dealing with those challenges, CMC SOC is established to address those issues, and offers outstanding benefits of advanced technology systems which are compatible with most IT systems of enterprises and organizations, in order to help them save time and resources for long-term development goals."
The Authorization Service for Network Security Monitoring helps clients to continuously monitor and analyze any behaviors in the system, such as network, security devices, personal computers, servers, database, applications, websites, etc., thus timely detecting suspicious behaviors that may jeopardize the health and safety of the system. CMC SOC uses methods of remote monitoring - centralized analysis and a safe, separate transmission system. The works of monitoring, analyzing and dealing with incidents are performed by a team of security specialists of CMC SOC, who have been granted certificates of security and IT system such as CISSP, CEH or ITIL.
The advantage of this service is that clients can continue to use security solutions that they previously invested in. The use of service does not change the status of the IT system thanks to the Ecosystem of IBM. This helps client's security defense system maintain its independence. Another advantage is that clients can follow the process of monitoring and troubleshooting and evaluate whether service quality is as guaranteed.
CMC SOC provides 5 service packages depending on client's requirements, including: Network security monitoring; Network security monitoring and troubleshooting; Emergency information security troubleshooting; Digital tracking and digital forensics; and Risk screening and campaign. With these service packages, CMC can perform 24/7 network security monitoring in all 365 days of the year for client's system, propose troubleshooting methods for different systems, provide onsite personnel for troubleshooting, collect and investigate the cause of incidents, origin of errors and vulnerabilities, and actively search for risks.
CMC TSSG has now launched the above service packages. As for the Risk screening and campaign package, it will be provided from the 4th quarter of 2020. In order to execute all of the works mentioned above, CMC SOC needs three critical factors: human - technology-process. Inheriting more than 12 years of experience in information security, along with advanced technology from Samsung SDS and IBM, the SOC at CMC TSSG is responsible for continuously monitoring clients' systems, screening and categorizing the risks found and sending warnings to its clients. In addition, it also proposes solutions to handle and prevent incidents and guides clients to troubleshoot or organize the troubleshooting and report information security status periodically.