CMC's security solution awarded VB100 certification with maximum score
CMC Malware Detection and Defense (CMDD), the security solution of CMC Cyber Security has recently been awarded VB100 certification by Virus Bulletin (VB) - the world's leading body for anti-malware testing and certification. With maximum score of 100%, CMDD has been ranked in the top 17 security products with the best results in the world by VB.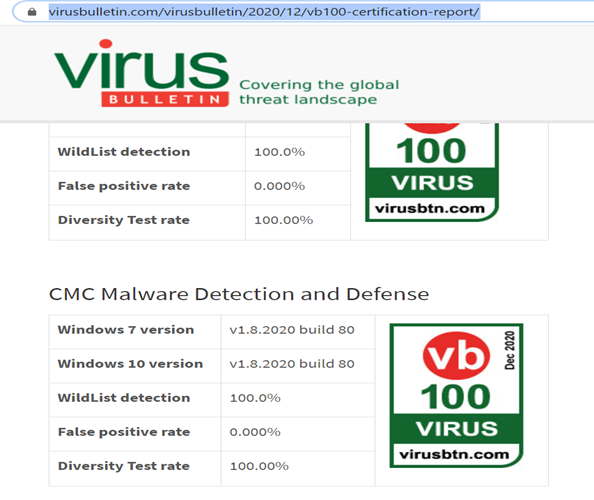 As one of the three most prestigious antivirus software certifications in the world. VB100 sets international standards for the ability to capture and kill malware of anti-malware software globally.
Meeting the strict standards of VB100 with the maximum score of 100%, CMDD has surpassed many well-known domestic and foreign competitors and is on par with the world's leading information security products, such as Avast Free Antivirus, G DATA Antivirus, etc. The fact that it is the only "Make in Vietnam" security product to achieve such result has affirmed CMC's global position in security. After VB100 announced the results, CMDD is qualified to become a global partner product of Microsoft.
Mr. Vu Lam Bang, Director of Product Research and Development Center, CMC Cyber Security said: "We have been focusing on product improvements to ensure meeting criteria of fast, lightweight and efficient. VB100 certification is a great recognition of the efforts of our R&D team. For years, CMDD itself has remained the first choice of many important institutions, agencies and organizations. With VB100 certification, we will be more confident to step into the international market, following CMC Corporation's strategic goal of Go Global."
To be awarded this certification, a software must be able to detect over 99.5% of viruses in test file, and is only allowed to mistake less than 0.01% of clean files. According to the announced results, CMDD not only meets requirements but also excels with the accurate malware identification rate of 100% and 0% for mistaking non-malicious programs.
CMDD is a new-generation IT monitoring and protection solution for enterprises and organizations, which has been deployed at governmental agencies and national defense and security agencies, as well as many localities and large corporations in Vietnam. The solution helps to monitor the entire system and each and every computer in the system in real time, effectively prevent malicious codes, detect attacks and prevent intrusions, and at the same time enable the establishment of information security policies. As a strategic "Make in Vietnam" security solution of CMC, CMDD also allows connection to National Cyber Security Center for information sharing.
Deputy Director General of Authority of Information Security - Ministry of Information and Communications Nguyen Khac Lich said: "The fact that a Vietnamese product for detecting and preventing malicious attacks is awarded an international prestigious certification with excellent results is an important milestone which proves that the Make in Vietnam strategy has initially gained certain success."
Mr. Nguyen Trung Chinh, Chairman of the BOD of CMC introduces CMDD to Minister of Information and Communications Nguyen Manh Hung
As a member of Vietnam Alliance for Development of Cyber Security Ecosystems, CMC Corporation is one of the first Vietnamese enterprises to master 100% of cyber security ecosystem. Leading the construction of cyber security ecosystem in Vietnam, CMC always strives to improve products as well as to accompany enterprises and organizations to ensure the safety of the cyber space in Vietnam.
Attacks by viruses and malware have been causing a lot of damages to enterprises and organizations around the world. In 2019 alone, statistics show that Vietnam lost more than 20,000 billion VND due to computer viruses and malicious codes.
"The war between criminal organizations using malware and viruses and cyber security enterprises is never ending. Therefore, we will constantly improve technology and develop more diverse features so that our products better play their roles in protecting customers' IT systems as well as the cyber security environment in Vietnam," said Mr. Bang.
The VB100 certification was first introduced in 1998 by Virus Bulletin. Virus Bulletin is an organization that conducts independent inspection of antivirus software globally. The tests of Virus Bulletin are widely recognized in the software industry. These tests focus on the ability to identify test files, scanning speed, as well as the ability to avoid making mistakes of antivirus software.