CMC CEO: "Go global to scale up growth" - An executive talk with The Investor Magazine
CMC Corporation has positioned itself as a global technology company for many years, with its "Go Global" strategic direction. The Investor talks with CEO Ho Thanh Tung about the Vietnamese firm's progress in pursuing that ambition.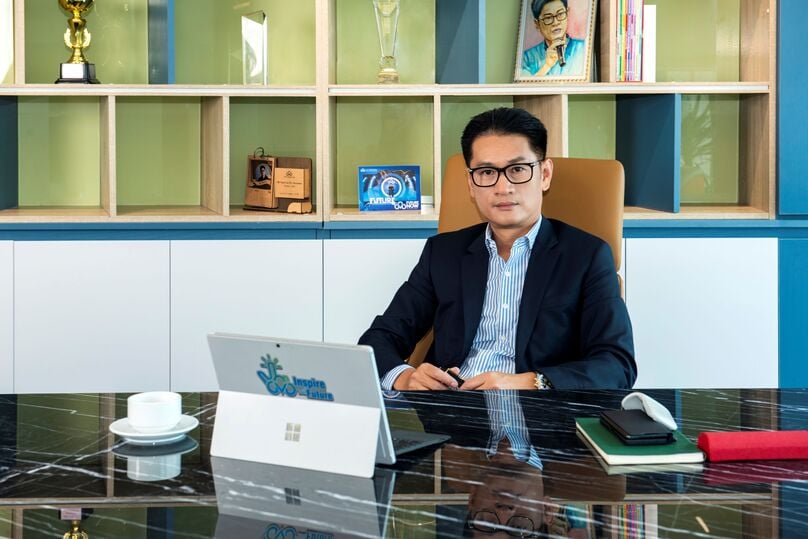 CMC aims to become a global company during the period 2021-2025. What are the foundations for the goal?
CMC is confident based on our own revenue, businesses, and technology capabilities. Regarding revenue, in the latest financial year from April 2021 to March 2022, our net revenue reached VND6,906.8 billion ($299 million), up 22% year-on-year. Gross profit expanded 36% to VND2,246.7 billion, and pre-tax profit increased by 33% to VND446.3 billion.
By the end of 2021, our businesses in telecommunications, technology and solutions, and global business has secured impressive growth. We are implementing the strategy consulted by McKinsey, which involves restructuring to grow strongly and capabilities consolidation. We are also re-positioned as a leading consultant and provider of digital transformation solutions for companies and organizations. This matches well with market needs as most enterprises need to digitize management, supply chains, and information systems.
In terms of technology capabilities, our cloud computing ability is seen as the top in the market. We are on top in providing Multi Cloud solutions, including Private Cloud (a solution for organizations) and Public Cloud (providing IT services through the internet). CMC has affirmed its information security capabilities with the CMDD (CMC malware detection and defense) security product that has achieved a maximum VB100 score in global standard certifying. CMC also owns two Security Operation Centers (SOC) in Hanoi and Ho Chi Minh City to provide professional services of international standard to customers.
In addition, our company has investments in research and development to build an ecosystem incorporated from Internet of Things (IoT)/smart devices, Big Data, artificial intelligence (AI), data lake, and blockchain-security.
We have positioned ourselves as a global firm for many years, with our "Go Global" strategic direction. Thanks to it, CMC is trusted by many partners in the U.S., Japan, EU and Asia-Pacific.
International business of CMC grew strongly in the last financial year. Will it continue to be a growth engine?
Our international business division, or CMC Global, has developed vigorously thanks to our proper strategic direction. In both traditional and new markets, CMC is trusted by foreign partners. After five years of development, CMC Global has reached a revenue milestone of more than VND1,300 billion ($56.28 million), a team of nearly 2,200 employees and has 250 partners and customers, and many of them are world-leading companies.
CMC Global created this milestone as revenue increased by 185% over the same period of 2020. We currently have 10 offices worldwide. In Japan, we have opened our second representative office, located in Osaka. In Singapore, CMC APAC was established in mid-2021. These developments have helped us provide our best products and services to customers in those markets.
In Korea, we work closely with one of the leading technology corporations to apply new technologies like AI, Big Data, IoT etc. to meet customer needs.
CMC Global's business in English-speaking markets has also achieved very good results thanks to its quick adaptations to market fluctuations caused by the pandemic. In recent years, the development of technology and increased trade ties in Europe have contributed significantly to making Vietnamese enterprises like CMC Global more confident in global business.
In addition, CMC Global has become a leading AWS consulting partner. This is another milestone marking CMC Global's efforts in developing Cloud solution capabilities, serving customers globally, especially during an era when cloud computing is the leading technology trend. CMC Global provides customers with end-to-end cloud services, including Cloud Consulting, Cloud Migration, Cloud Managed and Cloud Security.
CMC is a strategic partner of many big technology firms like IBM, Microsoft, Oracle, and SAP. There are several other Vietnamese companies like this, so what makes CMC different?
Our company has differences in technology capabilities as mentioned above. Besides, we have capabilities for integration to create comprehensive solutions for customers. CMC has maintained its position and obtained advanced certifications from technology majors like Samsung SDS, Microsoft, IBM, Dell, EMC, Amazon, and Google, thus helping customers access the most advanced technology solutions. Specially, CMC always strive to co-invest its fund and human resources with technology partners to improve capabilities and develop sustainably.
CMC partners with more than 40 technology companies globally, like setting up a Global Delivery Center (GDC) last year with Samsung SDS. While the world is undergoing many certainties, will such partnerships change?
In 2021, we reaped lots of fruit in international cooperation, especially with Samsung SDS. The CMC-Samsung SDS partnership covers up to more than 700 employees, and the total value of cooperation reached nearly $20 million, doubling that of 2020. CMC has become the second largest GDC partner in Asia.
In Cloud MSP, we have nearly 250 employees working in this field. In future, CMC is expected to have about 1,000 employees working in GDC.
In addition, we have earned nearly 200 new customers globally. In our strategic markets namely Japan, South Korea, APAC, the EU, the U.S., and Vietnam, our growth is over 200%. We provide services to more than 500 customers worldwide, of which more than 10 are in the Fortune 500 list.
CMC have achieved that success thanks to our commitment and stable service quality in cooperation with our partners despite many difficulties due to the pandemic and the shortage of high-quality IT personnel.
What are your key milestones in 2022, especially in international cooperation?
In February 2022, CMC became a strategic investor in Asia University to attract high-quality talents, develop human resources to ensure the goal of becoming a global enterprise with billions of dollars in revenue. We expect 10,000 -15,000 employees by 2025. We will cooperate with foreign universities to build an international standard curriculum framework, advanced curricula in line with the first digital university model in Vietnam. In addition to IT, CMC also specializes in foreign languages (English, Japanese). CMC also cooperates with domestic and foreign partners to create internship opportunities for students right from the first years.
In 2021 and 2022, our company has promoted merger and acquisition activities by investing in startups and established companies, and via strategic partnerships. CMC will also promote internal startups to incubate bold and feasible ideas.
In Singapore, CMC APAC was established in mid-2021, contributing to providing customers the best products and services in those markets. In Korea, CMC works closely with one of the leading technology corporations to apply new technologies such as AI, Big Data, IoT etc. to meet customer needs.
What is your business philosophy? How do you define success, and how do you deal with failure?
In terms of business philosophy, in addition to revenue, profit and business growth, CMC wants to contribute more to society, for a better life. Our viewpoint is Technology for the sake of people, Education for the sake of people. In addition to developing digital products, services, and solutions, we invest in education, to create ever-lasting products for society, making Vietnam a country providing digital services to the world, and a regional digital hub.
The four core values of CMC are: Creativity – C-Speed - Commitment - Customer Centricity. In which, Customer Centricity is our philosophy of action because all core values of CMC are directed towards one goal – Customers. Customer satisfaction and trust is also the success I seek.
Throughout its development, CMC has faced many obstacles and failures. Most importantly, do not get discouraged and give up. Failure is also an asset, an opportunity for each of us to secure success.